Running a blog takes a lot more than just the writing itself. The whole website needs to be taken care of. As someone that isn't a tech-savvy, it can be intimidating to do all of this by yourself. There are so many fields where you can improve and there is so much information on how to do this.
We made a list of the top essential plugins for WordPress bloggers to get you set. With these, you will be able to improve your blog its traffic, performance, but also your own workflow.
Editorial Calendar

WordPress comes with a lot of great features out of the box. When you're getting really serious about creating content, and for example have multiple articles being released every day, things can get quite chaotic. In that case, having an effective planning system is the key to staying organized. WordPress comes with the option to make scheduled posts, but it is painful to get an overview of what will publish at what time when there are many posts scheduled.
The Editorial Calendar plugin is a total game-changer. You get to see all your posts publishing dates in a calendar view as we know it from most applications.
Because the calendar updates whenever you make a change in WordPress itself, using other external calendars becomes unnecessary.  Another great time-saver is the ability to drag and drop posts between multiple dates. A really essential plugin for anyone creating a lot of content.
Edit Flow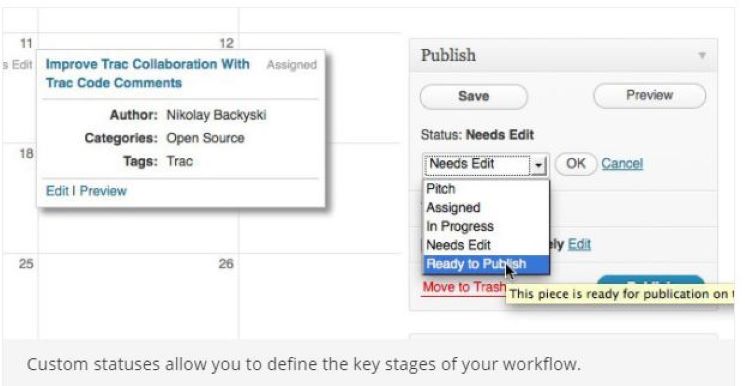 Edit Flow is another plugin that can make a lot of difference when you're working with multiple authors on your WordPress blog. It is packed with features to have effective and efficient communication with your team, all without leaving your WordPress dashboard.
It comes with a calendar feature similar to the Editorial Calendar mentioned earlier. There is also a range of tools to have a better overview of who should do what. For example, you can add notes for the author to work with, post comments to each other before publishing, assign custom post statuses, and much more.
Contact Form 7

For every website, it is incredibly important to have 1 or more options from where people can contact you. The most professional way is to have an integrated contact form on your blog or website.
Contact Form 7 is probably the most popular option for this because of its simplicity while still being packed with features, having regular updates and being free to download. That is also why you keep on coming across this plugin in a lot of premium WordPress themes. Making it the go-to contact form plugin.
EWWW Image Optimizer

Browsing the web has become a fast-paced activity. Studies have shown slow loading pages have a very high bounce rate. Users don't feel like waiting when there are other faster alternative websites to visit. But not all of us have top-notch hosting with the fastest speeds and large bandwidth.
Loading text and the page layout usually isn't the problem, loading images is. That is exactly where EWWW Image Optimizer can make the difference. This plugin automatically optimizes almost any kind of image you put on your WordPress blog, making it load faster and use less of your precious bandwidth.
Smush Image Compression and Optimization

Smush is another image compression plugin and comes with a well-made user interface. It is free to use and all the compression happens on their servers, which avoids any stress on your own server. The plugin easily combines with other plugins and even compresses images found in other plugins or themes.
Social Share Buttons

A large portion of getting traffic to your blog comes from sharing your content via social media. Doing this yourself is the first step, having your readers do it is the next step. That is one reason why having social media sharing buttons on your blog has become a standard.
There are many plugins out there to do this, but Social Share Buttons are one of the more advanced, yet easy to use options out there. Through their clear interface, it is a breeze to choose what social media buttons you want to be displayed, how they will behave and how they will look.
Yoast SEO

Yoast SEO is yet another incredibly popular plugin, and that is for a reason.
We can't stress enough how having good SEO will drive more traffic to your blog, but that is easier said than done.
Yoast SEO helps you with this. Behind the scenes, there is quite a lot going on. It analyzes the content you are writing but then makes it easier for you to write good articles by giving you useful insights about your article.
Google Analytics Dashboard for WP (GADWP)

To see if your hard work is actually making a difference, you need to have some kind of insight on how your user traffic is behaving. Google Analytics is a good and free way to do this. With the GADWP plugin, you can integrate these analytics inside of your WordPress dashboard. Allowing you to track all the user behaviour with ease and without the need for using Google's interface. The plugin is designed to cut off all excess features and just present you the data that is important to you.
Google Analytics for WordPress by MonsterInsights

If the GADWP is still a little bulky or overwhelming for you, this plugin from MonsterInsights is a great alternative. Their beautiful interface gives you plenty of data to work with, in a clean and simple way. But don't judge it just by its looks. This plugin is just as powerful, if not more powerful.
Google XML Sitemaps

A part of search engines their algorithm is crawling through a sitemap of your website, which means they get an overview of how your pages are connected to each other. Therefore, there needs to be a sitemap first. The Google XML Sitemaps plugin can generate this for you and will send an update to the search engines every time you make changes to the structure or add something new to your blog. This way users are more likely to find you through a quick Google search.
WordPress Quiz Maker Plugin

Provide your users with engaging content, make the process of lead generation easy, collect data simply, and boost your website traffic by creating different types of quizzes with the WordPress quiz plugin.
The WordPress Quiz Maker plugin comes with different types of questions, including radio question type, text, and much more question types. You can create various types of quizzes such as multiple choice quizzes, personality test quizzes with the best personality test questions, assessment quizzes, trivia quizzes, IQ tests, etc.
This plugin is an incredibly powerful and user-friendly tool that allows you to easily create and customize quizzes without the need for any coding skills. You can even create timer-based quizzes, paid quizzes, and exams with a certificate. It also comes with great features such as logic jump, export, and import questions, also export results, sending mail to both user and admin, etc.
Blog Designer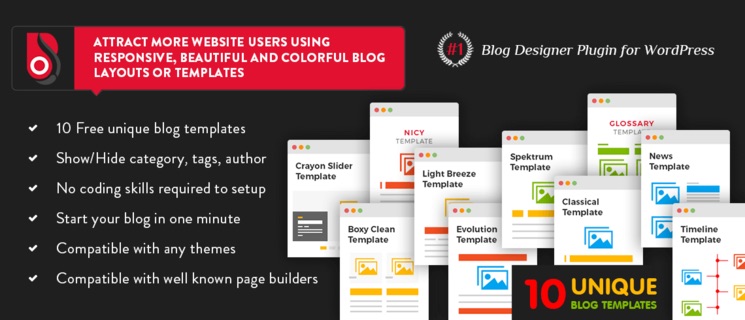 Do you have any plan to display your blog in a different layout from your default theme? In that case, Blog Designer will come to your aid with 10 different blog templates. This plugin also loaded with features like social share buttons to improve the engagement with readers.
The management of your blog posts will not be a huge task when you have this plugin. You can position the blog in any desired page of your site. This plugin is fully responsive and allows you to Hide as well as to display the Post Category, Author, Tags, Both comment and view count. With this plugin on board, your blog is completely under control.
Jetpack

Jetpack is the perfect plugin to get started with WordPress, as it comes with many simple but essential features to enhance your experience.
Examples of such features are traffic analytics, social media sharing, protection, quick ways to create image carousels, contact forms and so much more. If you don't feel like collecting a lot of separate plugins, this single plugin will help you out for now as it covers a big portion already.
Gravity Forms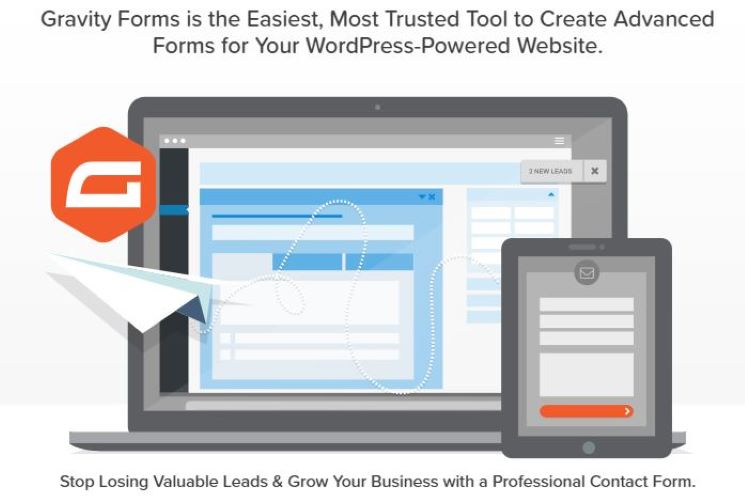 Sometimes the basics just aren't enough. For the more advanced contact forms or just forms in general, Gravity Forms is a great option.
In comparison with Contact Form 7 more can be done through their interface instead of making changes in the code.
For any forms that have a great complexity such as multi-page forms, custom orders, payment inputs, product choices, … Gravity forms will save you a lot of headache and troubles.
Another great feature about this plugin is the so-called "conditional logic", you can set up a form that directs the user to a specific part of your form depending on the previous choices they made.
Akismet

Nobody likes spam. It creates a disorganized mess and potentially is harmful. Also, you want to spend as less time on this as possible. Akismet is the perfect plugin for this. It is nearly plugged & play and will fight the spam comments for you, so you don't have to get your hands dirty.
WordFence

Adding security to your websites or even, in general, is often a thing that gets postponed. Nothing happened yet, so you don't feel the urge to add some extra security.
Of course, regret always comes after things went wrong. In fact, it isn't even that hard to hack a WordPress site. Especially those with the slightly cheaper hosts. So be smart and just add a security plugin.
Wordfence is a great choice for this. It is the most popular choice out there. The great benefit of this plugin compared to many other ones is the amount of insight you get. There are dedicated analytics provided, so you can see exactly what is going on.
iThemes Security

IThemes Security is one of the alternatives for Wordfence.
It gives you an overview of badly secured points of your WordPress blog and ranks them by priority. The settings page is designed in a clear way. This makes it a good choice if you need to add security to multiple sites and save time, without compromising in functionality.
Defender

Defender focusses on an easy to use security. It makes sure everything is secure, without making it feel like a big deal. This plugin is a good choice if you don't like bulk and complexity, or it would work very well for less advanced users.
WP-Optimize

With computers, there are always files being created, deleted and moved around all the time. The same thing applies to your WordPress blog. This also means there will be some unnecessary files that got lost in some hidden places, slowing down your website.
WP-optimize cleans this for you, deep down in places you didn't even know existed.
It can also get rid of the many unused revisions you made on some blog posts, or clean up all these spam comments that have no value to you.
W3 Total Cache

As mentioned earlier, a fast loading page is essential to give a great user experience. Previous plugins could help by optimizing images, but W3 Total Cache will help with everything else. Resulting in 10x better performance on your blog. This brings many other benefits, such as better conversion rate, faster browsing between pages and a better ranking on Google.
WP Super Cache

An alternative to W3 Total Cache is WP Super Cache.
There is a lot of calculations going on when you load a webpage. This needs to happen over and over again, while the content usually even doesn't change that often. That is why WP Super Cache generates static HTML files that load much faster.
WP Rocket

If you need an all-in-one solution for faster loading times, WP Rocket is an excellent choice.
It also covers the largest range of features compared to our previously mentioned plugins.
Instead of focusing on speeding up 1 area, it searches for all possible ways to do this.
Because of it being so jam-packed, it doesn't come for free, but it definitely is worth considering.
Conclusion
Setting up your WordPress blog and sticking with the default functionalities probably does the job when you're just starting out. But to get the best out of it, installing plugins can help you in many fields, depending on what is important to your workflow and how you want to improve your blog its performance.