Blogging is a powerful communication tool to build a relationship between business and customers. It not only enhances the relationship but also have a huge impact on the site's ranking in the search results. WordPress also gives a comment option for the blogs to help readers to share their thoughts and opinion about the blog post.
The comment feature in WordPress for the blogs is a great thing at the same time spammers will use this feature to do their malicious activities. The irony is spammers came with spammer bots to spam the sites that are performing well. Spammers use the comment section to push links to enter the personal details of blog readers, which in turn give a bad impression to your site.
Do not worry! We are going to list out multiple ways of controlling this comment spamming in your WordPress site.
Limit number of Links per comment
The comment section of blogs is mainly used by spammers to insert their link. WordPress gives you an option to limit the number of links to be added in the comment section. This will help in greater extent from spammers and their bots from commenting. You can set the limit in the Comment Moderation section.
Go to WordPress Dashboard -> Settings -> Discussion -> Comment Moderation Section.
You can also enter "0" in this section if you do not want any link to be added in the comment. But, Take note; this will also prevent legit visitors to add their thoughts and references via links.
Enabling Comment only for Registered Users
Spammers do not want to reveal their Identity.  They just put their hyperlinks on the sites randomly they came across and their bots do the same. With WordPress, you can restrict the comment section and only your registered and verified users can access it. By enabling this, your site initially faces a down graph as it is limited but if you increase the quality of the site, user count might increase over time.
Go to WordPress Admin Dashboard -> Settings -> Discussion -> Other Comment settings
Here, you have to select the checkbox of "Users must be registered and logged in to comment" and save your changes.
Blacklist the Most commonly used spam words
Most spammers use the same sentence templates in the comment section to push their malicious links. You can block those words by creating the list of spam words in the Comment blacklist section.
You can enable this option by executing the following steps correctly.
Go to WordPress Dashboard -> Settings -> Comment blacklist section.
In this box, you can add unlimited words by inserting a comma between the words. Before entering the words here, make sure your selection of words does not affect the comments of genuine customers.
Enable Comment Moderation System
Now we are going to see a widely used comment controlling system by the WordPress users across the globe. No comments will be displayed on the website without the approval of the website administrator.
Execute the following steps to enable this moderation system
Go to WordPress Dashboard -> Settings -> Discussion
This comment moderation system allows website owners and administrators to review and analyse all the comments and approve only valid comments.
Using the Anti-Spam Plugin
You have no time to control and monitor comment spams manually? Do you want to automate this control system? No worries. You can download and enable WordPress anti-spam plugins and get over with the spamming problem.
We have listed the best and easy to use WordPress anti-spam plugins to help you overcome this comment-spamming problem and let you concentrate on your business.
Antispam Bee

Antispam Bee is one of the most preferred WordPress Anti-spam plugin. This plugin effectively blocks spam comments and trackbacks. Registered users and Gravatar users are only permitted to comment. You can also allow comment for selected language and countries. Admins will get an email notification about the spam detail along with the IP address.
Akismet Antispam Plugin

Akismet antispam plugin is the most downloaded anti-spam plugin for WordPress software. Akismet validates all the comments and contact form submissions against the global spam database to prevent all the spam comments on your website. Akismet is free for personal blog purposes and provides a paid subscription to business and commercial purposes with more features. This plugin automatically disables spam emails, spam form submissions and Directory listings.
Titan Antispam & Security

Titan is a complete package of security plugin with anti-spam functionalities along with firewall, malware scanner, and audit feature for WordPress website. All the comments are automatically validated in the backend and allow only legitimate comments. At the same time, this plugin has no captcha system to enhance user experience. This anti-spam plugin claims to have a most user-friendly approach.
CleanTalk – Spam Protection & Firewall

CleanTalk is also a complete anti-spam plugin with both anti-spam features and firewall for prevention form malware. This plugin is compatible with contact form 7, Ninja Forms, gravity forms, Woocommerce and Buddy press forms. This anti-spam plugin works with No captcha, No captions and no spambots. This plugin can stop spam comments, spam registrations, contact emails, orders, bookings, subscriptions, surveys and Polls.
Hide My WP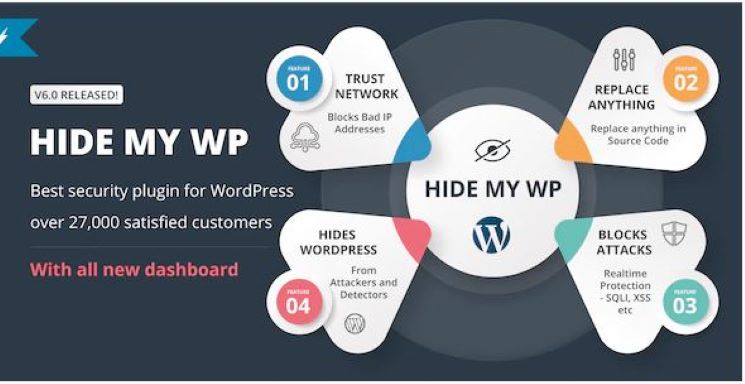 Hide My WP is a leading security plugin for WordPress websites. This Plugin hides your WordPress website from the spammers, attackers and Theme detectors. This plugin notifies website administrators if there is an SQL injection, CSRF, XSS, and Brutal force attack. This plugin gives a detailed report of every attack and its impact on your website on your dashboard. This plugin automatically detects and block all the requests trying access to PHP files, disable directory listings, and Block the spam comments.
Zero Spam

Zero Spam is an AI-powered anti-spam plugin with an amazing track record of protection against comment spammers and spambots. Not to affect the user experience, No captcha and No question format is used in this plugin. Including honeypot, multiple spam detection techniques are applicable to catch the spam in one way or another. This plugin also protects third party software such as WPforms, Contact form 7 etc., this plugin shows the complete report of spammers and attacks in the admin dashboard with charts and statistics for better analytics.
Prevention from Spam comments is a necessary process because they ensure the security of the website's visitors and at the same time, less spammed sites have a better result in search results. Comment your opinions and questions in the section below and we are always happy to hear from you!