There are lots of menu plugins out there, but with these WordPress menu plugins you can quickly and easily create sleek mega menus in no time at all. From horizontal mega menus to vertical accordion style menus, each plugin offers different features that are sure to make your website stand out from the crowd.
With so many WordPress menu plugins out there, it can be difficult to find the one that's perfect for your site, so hopefully this roundup of the best WordPress menu plugins will help you decide which one is best for you!
What are the best WordPress Menu plugins?
When comparing WordPress menu plugins, it becomes clear that having a plugin offers a lot more options—especially if you run an big WordPress website. In addition to navigating through content, a menu bar on a website can be used to capture your viewers attention.
A best WordPress menu plugin should include these most important features,
A responsive menu design that looks great on all devices.
Ability to design Mega Menu structures – especially for eCommerce websites.
Supporting media contents to attract users' attention.
Integrates seamlessly with all WordPress themes.
Options for customizing the colors, fonts, font styles, etc.
A user-friendly menu editor for creating and editing menus.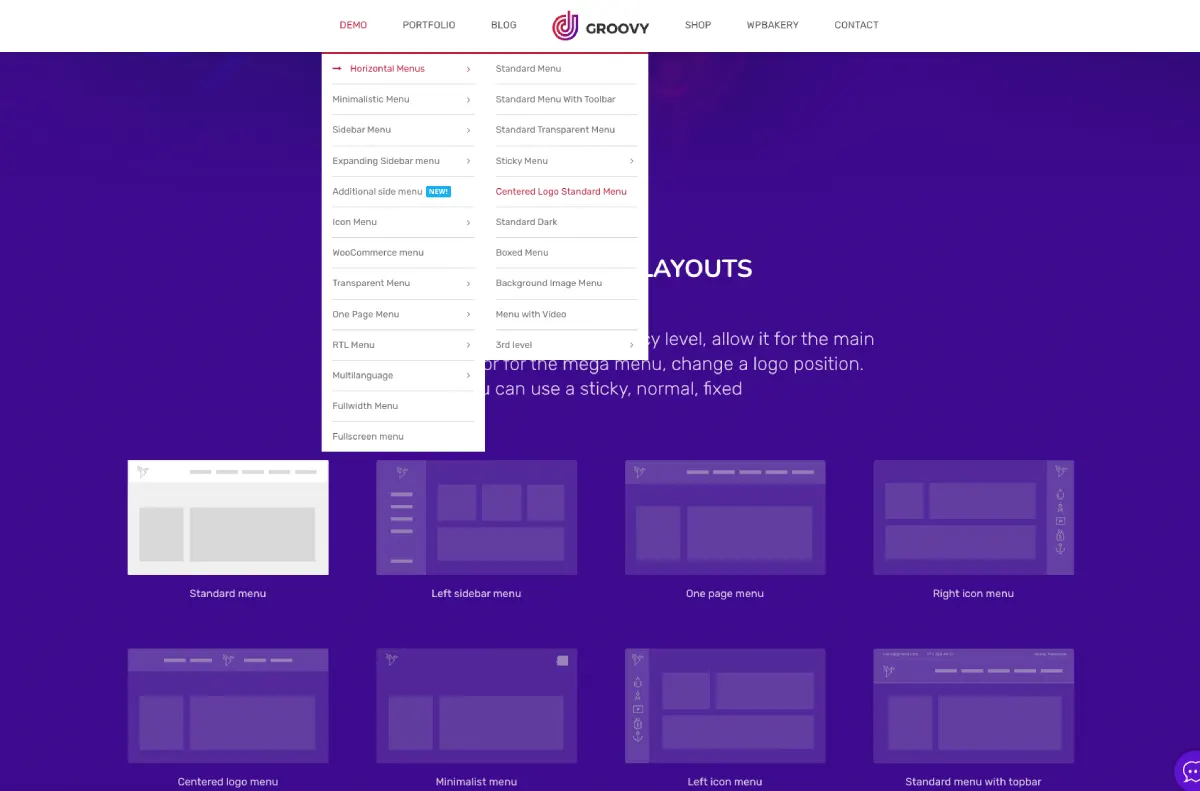 One of the best mega menu plugins for WordPress is Groovy Mega Menu. You can create any kind of a menu to your website and this plugin will create a navigation for you. It has plenty of features and it's compatible with all popular builders, Elementor, DIVI, WPBakery page builder, Gutenberg, WPML and WooCommerce. Adding any WordPress widgets or shortcodes is also very easy.
The mega menu plugin for WordPress is designed to be very simple and straightforward, so even beginners can use it and create their own menus. You also have full control over everything from header styles, color schemes to typography styles in addition to custom CSS support.
With this plugin, you can easily generate both horizontal and vertical scrolling menus.
Features
Multiple header menu styles available.
Features both horizontal and vertical menus.
Supports Rich media, Icons, Tabs, Accordions and even Contact forms.
You can build menus using many page builders like Elementor, Divi builder and WPBakery page builder.
Responsive and mobile friendly.
RTL and WPML support.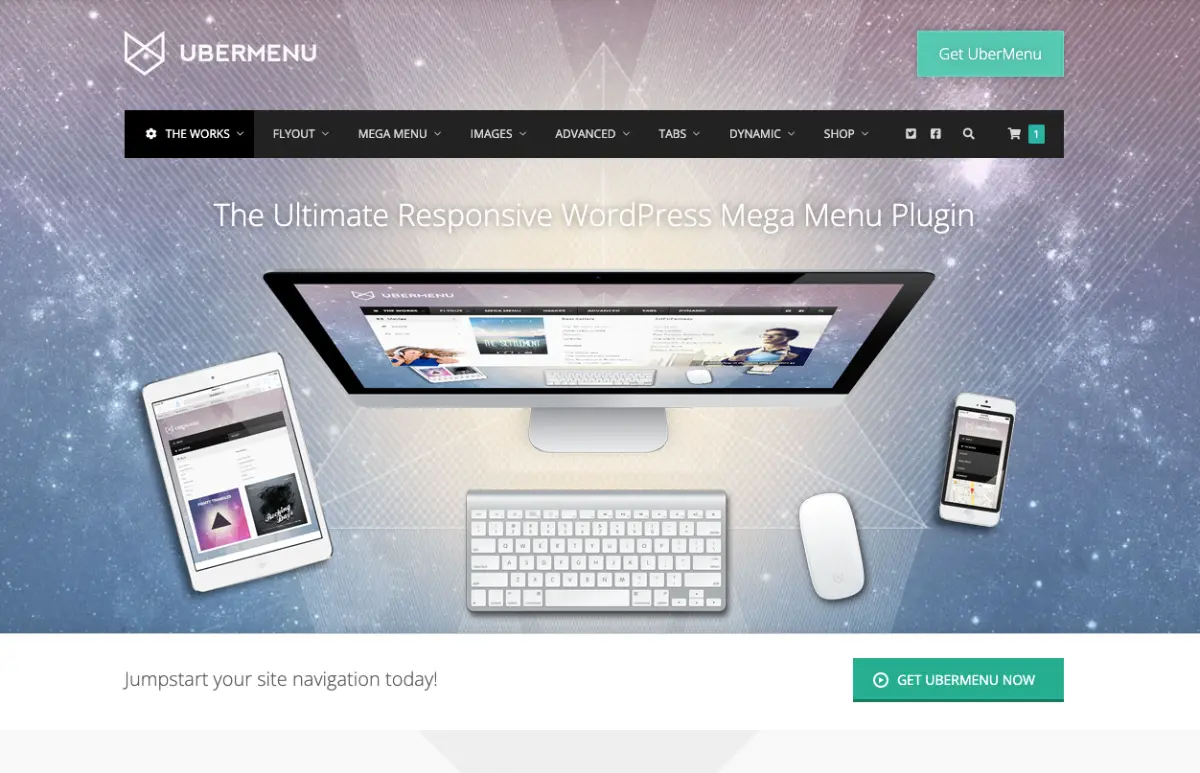 UberMenu is another best WordPress menu plugins. UberMenu is a mega menu plugin that allows you to create horizontal, vertical and accordion mega menus in a few simple
steps. It also has lots of features like advanced styling, submenu support, SEO optimization and more. There are plenty of other WordPress menu plugins out there but UberMenu seems to be the most popular choice for those who have the need for a mega menu.
UberMenu lets you create horizontal, vertical or accordion mega menus without any problem. It has easy settings for lots of styling options and an advanced admin menu that makes it very easy to configure your menu with drag and drop interface.
Features:
Flexible layouts and Mobile optimized WordPress menu plugin.
Create your own custom menu layouts by adding rows and columns.
Set your own responsive breakpoints.
Great mobile experience with touch-enabled controls.
Dynamic submenu content generation from WordPress posts or terms.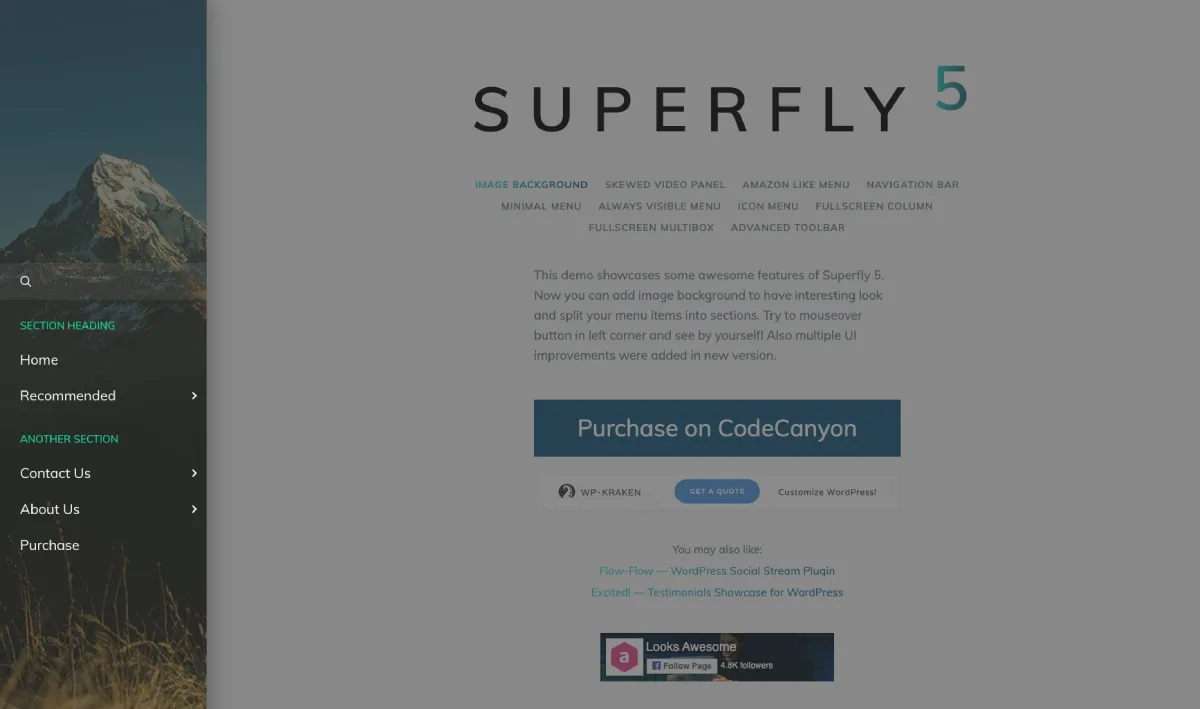 A responsive WordPress menu plugin that generates a vertical push, sliding, static or fullscreen menu for your website. This plugin is easy to use and it allows you to create horizontal, vertical and accordion mega menus in just a few simple steps.
You can add images, icons, widgets, shortcodes or any custom html elements to the menu. Change font settings, colors, background image, your logo and more! WordPress customizer support to edit the menu styles.
Features:
Responsive and Mobile-friendly.
Different menu modes, including slide-in menus, compact icon navbars, static menus, skewed panels, and fullscreen modes.
WordPress customizer support.
Multi-level menus support and smooth scrolling effect for anchored elements.
Google fonts and icons support.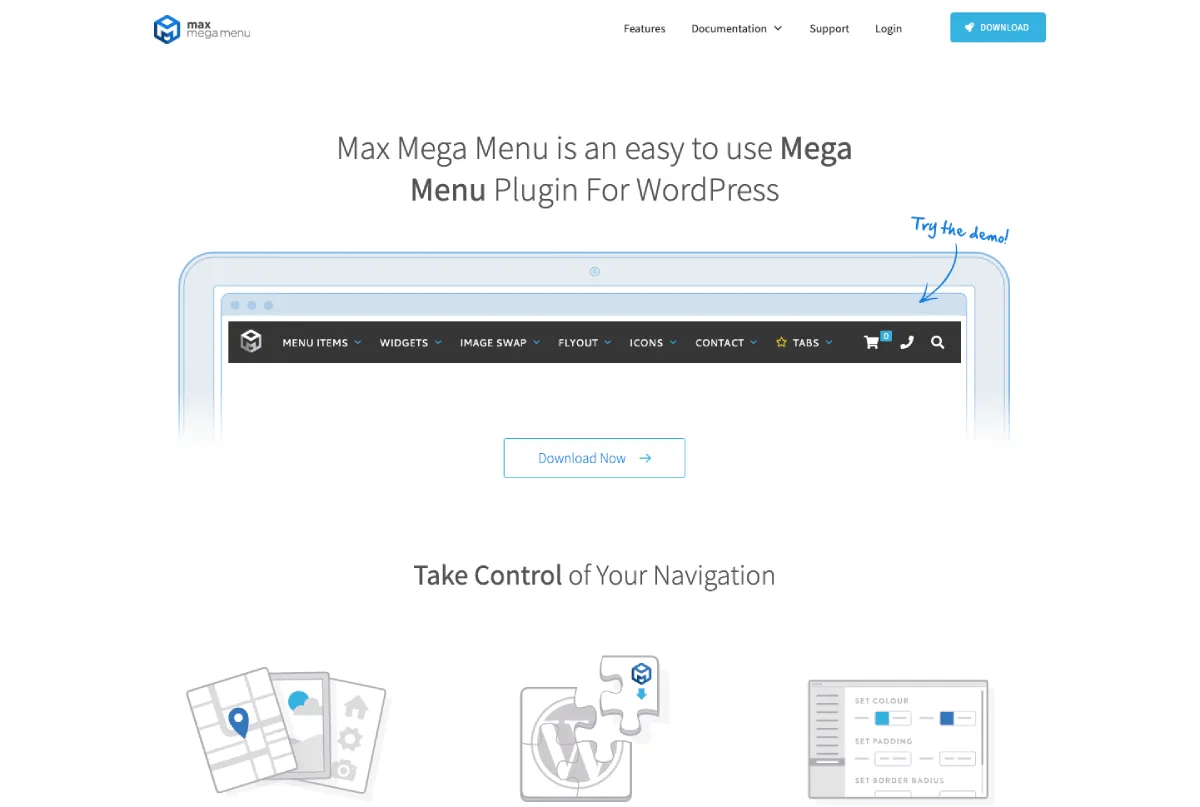 Max Mega Menu is also the best WordPress menu plugin out there. It's easy to use, doesn't require any coding skills and allows you to create a beautiful menu in minutes!
Max Mega Menu is the best WordPress menu plugin out there. It's easy to use, doesn't require any coding skills and allows you to create a beautiful menu in minutes!
It offers many customization options so that you can make your menu look exactly how you want it to. Plus, it works great on mobile devices too!
Your existing menus will automatically be converted into mega menus by Max Mega Menu. Multiple menu locations can be configured separately. This WordPress menu plugin is very light, with less than 2kb Javascript code and a single static CSS file.
Features:
Designed to be responsive and touch-friendly.
Choose from styles such as a tabbed menu, sticky menu, vertical menu, or an accordion menu.
It supports Font Awesome, Genericons, and custom icons can be uploaded.
Supports Elementor page builder and easy WooCommerce integration.
Light weight and clean code with a low memory consumption.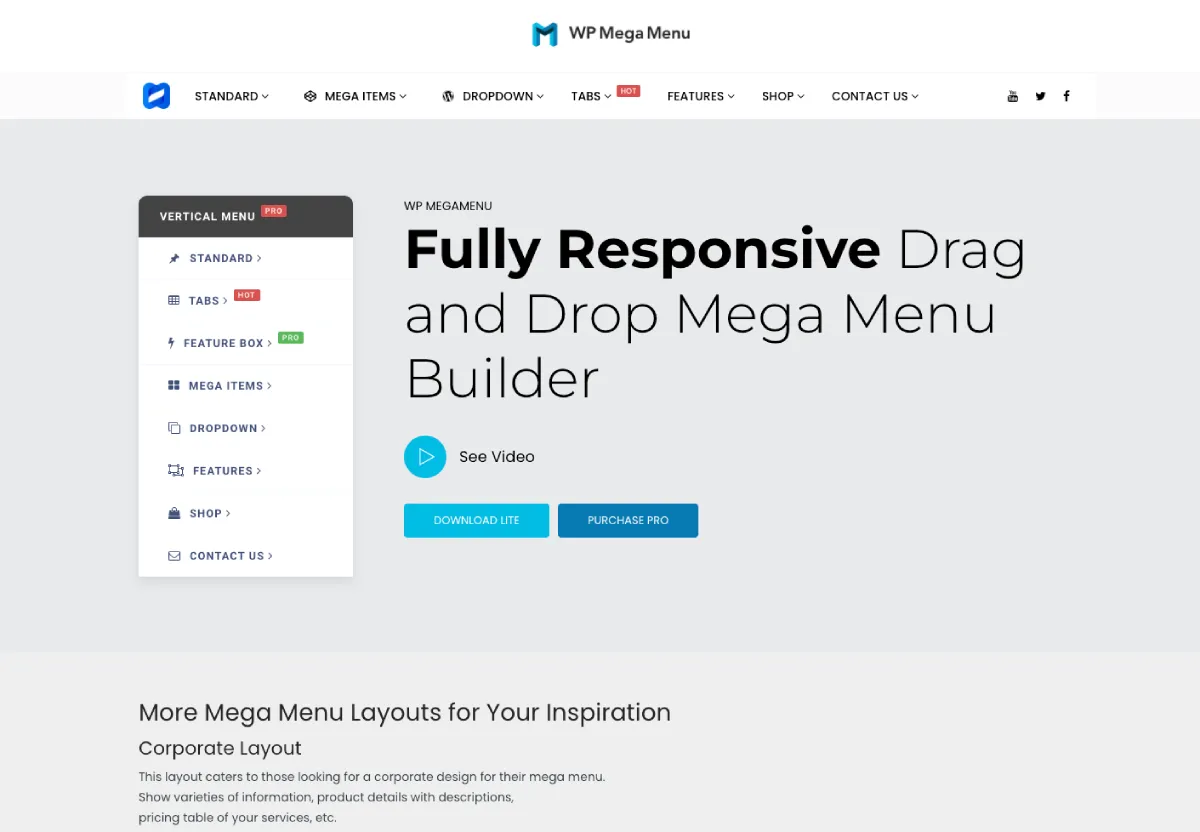 You can use WP Mega Menu to create horizontal and vertical mega menus, as well as accordion style menus. The drag & drop system makes the process simple. There are also a ton of customization options including different color schemes and control over the number of items that appear on a single line in each menu item.
In addition, you can set animations for menu opening and closing, such as FadeIn, FadeInDown, FadeInUp, ZoomIn, etc.
It offers free version and, Pro version with an individual license costing $29/year (single site use) or a Agencies license at $79/year (unlimited sites) – it is worth the investment if you want something scalable enough for a large site with multiple menu types.
Features:
Visual drag & drop menu builder.
Responsive menu builder and highly customizable.
You can integrate WordPress widgets and shortcodes into your menu.
Provide easy access to your social media channels for your visitors.
Unlimited styles, tabbed submenu and Font Awesome and Dashicons support.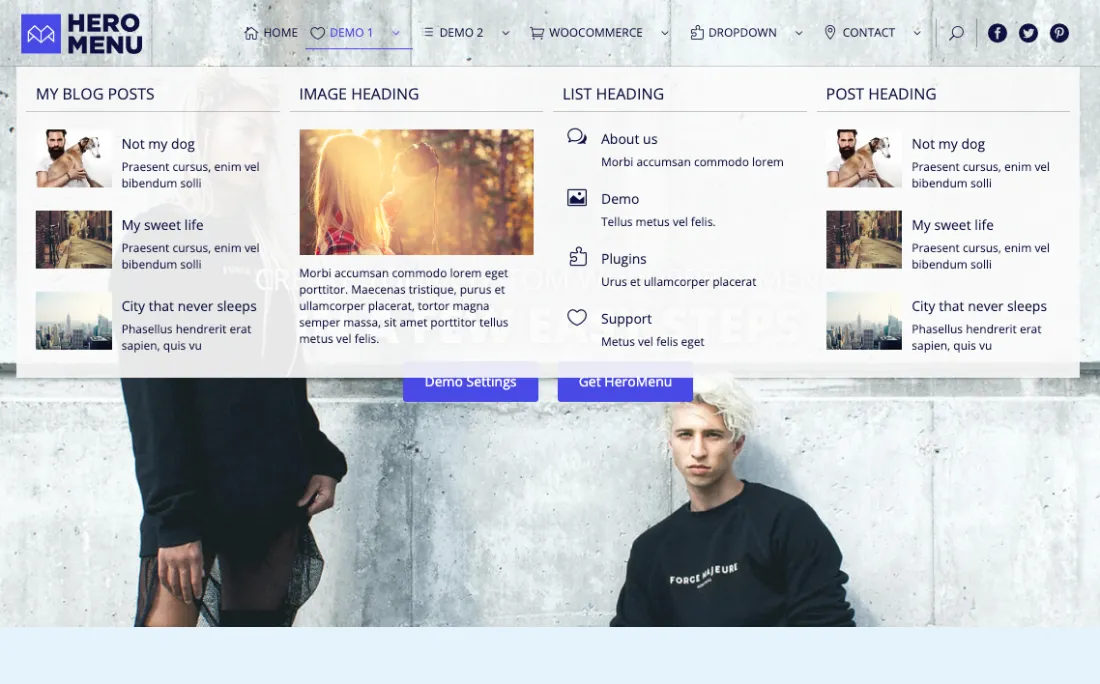 Easily create a slick and professional responsive mega menu in WordPress with Hero menu. You can create a perfect ad beautiful mega menus using a drag and drop builder.
With Hero, you can add WooCommerce products and categories as well as select specific products to display on your menu. Your store's sales will increase dramatically as a result. There are hundreds of beautiful icons available, as well as the option to upload your own.
Features:
Drag & drop menu builder with a visual interface.
Responsive and mobile friendly.
Add custom texts, WordPress posts, contact forms, Google maps and images easily.
Easy WooCommerce integration.
Customizable sticky menu.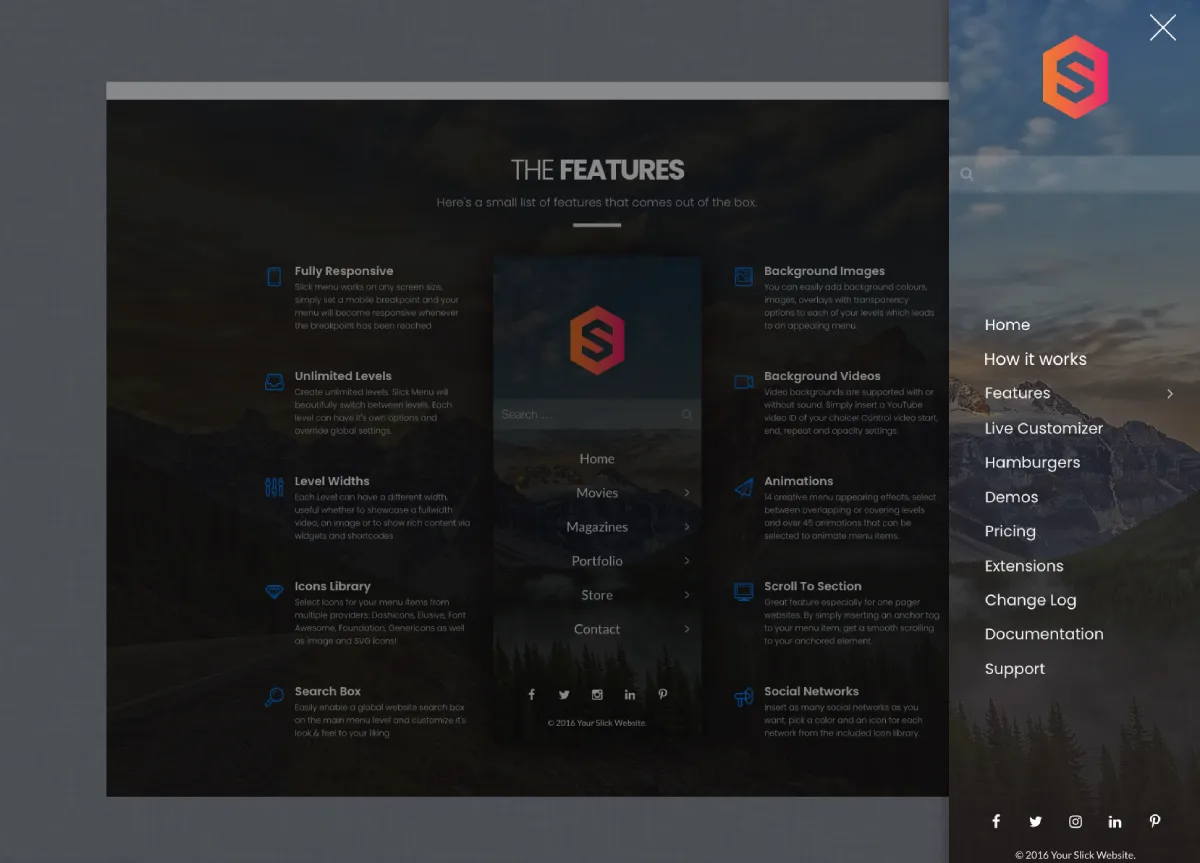 The Slick Menu plugin is an easy to use WordPress vertical menu plugin that allows you to create a sidebar menu in WordPress. There is also a full-screen menu with a portfolio and posts gallery. This amazing WordPress plugin doesn't need any coding skills or technical knowledge.
This WordPress Vertical Menu Plugin offers gorgeous and elegant 3D animations. In addition, you have the option of displaying the menu dynamically with AJAX to handle more than one menu.
The plugin offers a variety of menu styles, including sliding, full-screen, icons menu, full-screen videos and galleries, recent posts and more.
Features:
Huge range of icon sets like Dashicons, Font awesome, Genericons, Foundation icons Elusive and SVG support.
45 Menu item animations and 2 level of slide animations available.
Multiple animated Hamburgers with CSS animations.
Support for Google fonts and smooth scrolling effects are included.
Developer API is available to take full control of the menus.
Conclusion
We hope you enjoyed our list of the best WordPress menu plugins. We take a look at some of the top plugins on the market and discuss their strengths and weaknesses so that you can make an informed decision when it comes to choosing one for your website. If you have any questions or would like to learn more about any of the plugins, you can put your comments below. Thank you for reading, we would love to hear from you!
You May also Read
15+ Best Free WordPress Themes for eCommerce to Boost Your Sales
The Top 8 Plugins for Multilingual WordPress Sites
5+ Best WordPress Bookstore Themes for Selling Books Online