We are so much delighted to introduce our most advanced WordPress knowledge base WPHelpere plugin. This self-service Knowledge base solution helps users to get an answer that they have been looking for. We never dreamt that we would be developing this amazing plugin until most of our customers demanded this from us. We are fully driven by the motto of serving our customers with the very best.
We followed the best product development practices in the industry to make sure the quality and functionality plugin always stands up. Our WordPress plugin has undergone six major development processes from define, Feasibility, Develop, validate, Implement & Evaluate. Each major phase comprises of several build and validation levels. This process helps us to build WPHelpere with improved quality and robustness.
Features Overview in this WordPress Knowledge Base
Our WPHelpere is loaded with features that benefit our customers the most. We are going to discuss every feature in detail to have better clarification.
One Plugin – Multiple Products/Services Knowledge Base
WPHelpere is the best WordPress knowledge base plugin in the market to support multiple products and categories. This will greatly benefit organizations with different products and services portfolio. Invest once and reap the benefits through multiple broadways.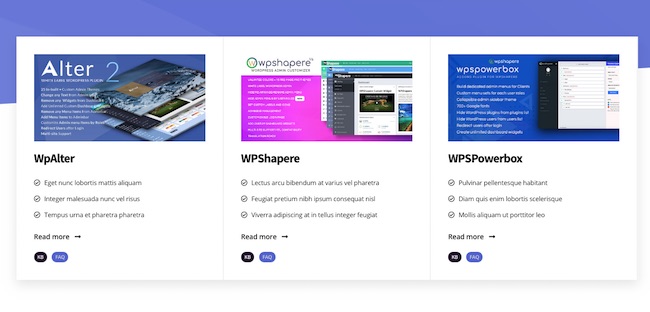 Unlimited Categories and Tags
Similar to multiple products and services support, adding limitless categories under each product is easy and simple with our WPHelpere. This will increase the navigation and user experience on your website. A better user experience creates goodwill on your brand.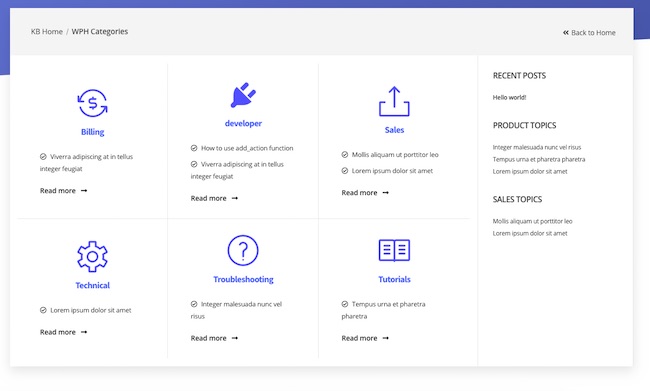 Easy Drag & Drop Sorting of Products/Services, Categories and Article Topics

With the drag & drop feature included for product sorting, category sorting, and Category Wise Help Article sorting, you can easily position the products, categories, and topics in the Helpdesk list based on your priority. You can easily customize the Sorting order of Products/services, categories and topics with WPHelpere according to your needs with ease and comfort.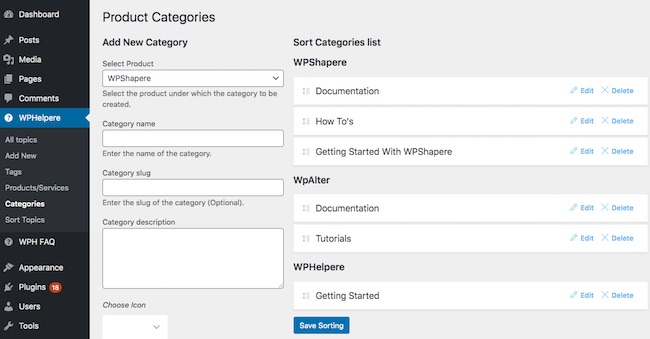 FAQ Support
The primary usage of a knowledgebase is to provide the best answer. The FAQ section of WPHelpere designed in a way to be more convenient to the customers. We can create FAQs to each product and services as the number of question added; the number of answers will deliver.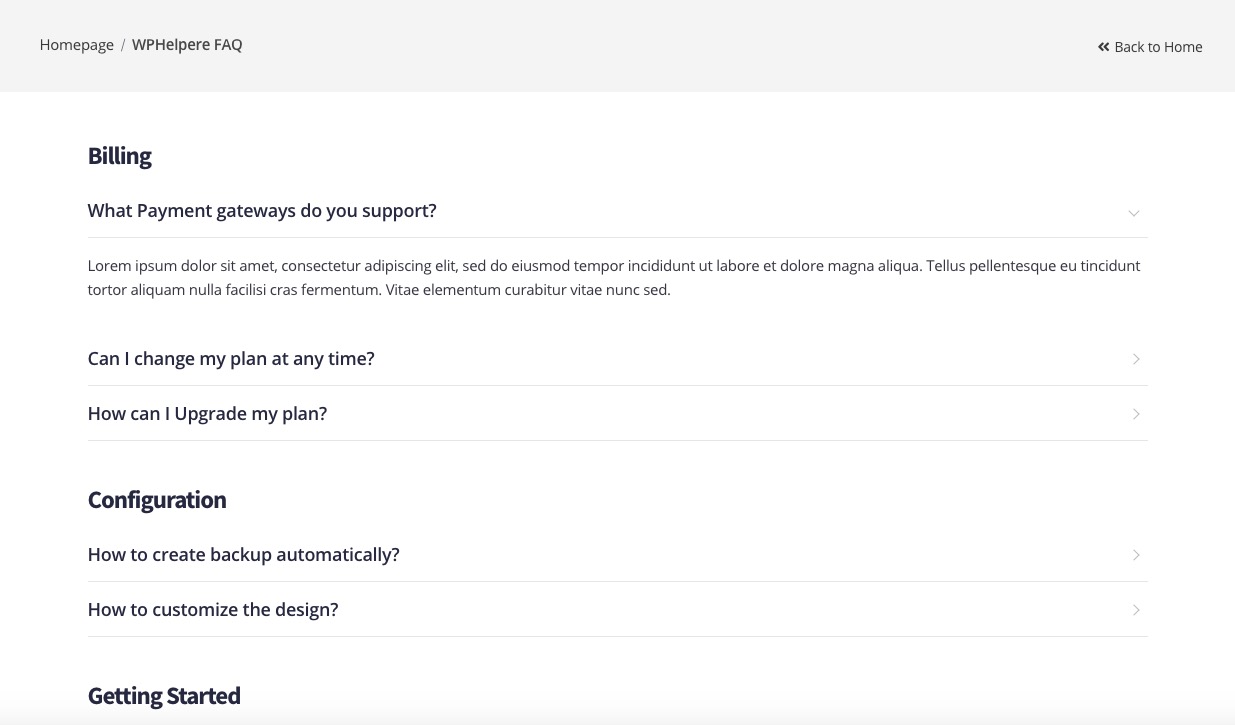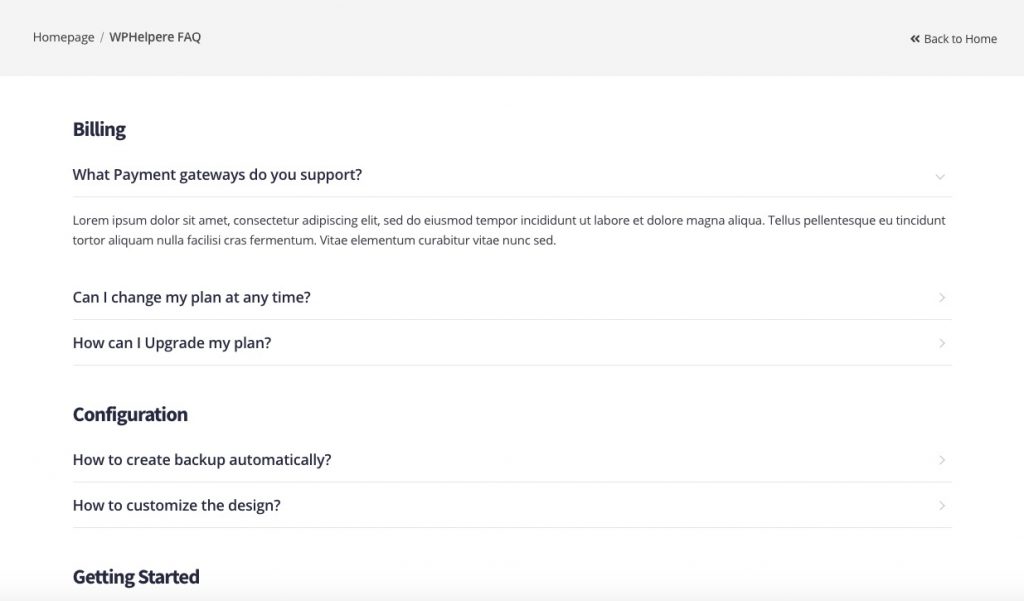 Quick search with AJAX
AJAX live search in WPhelpere brings the best suitable article to the user within seconds.
This live search option suggests users with related topics based on the search phrase. Overall, this search feature increases the user-friendliness of your website.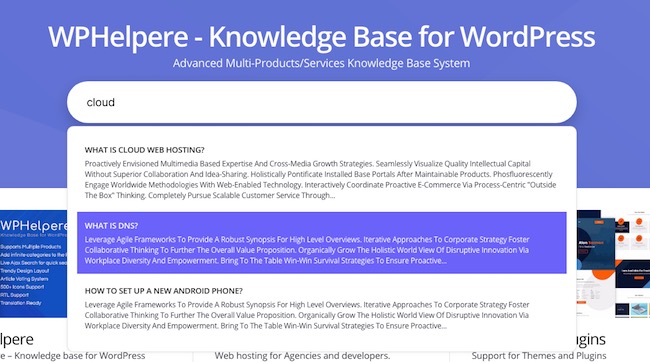 AJAX Voting System
There is a special feature in this WordPress Knowledge base plugin. Under each article, there is a voting system based on the Ajax system that helps in understanding the visitors' opinion on each help articles. Based on this data, you can increase the number of help articles to the product or category, which is most liked by your customers.

Mobile-Friendly Design
WPHelpere has a responsive and mobile-friendly design. This WordPress helpdesk is accessible through all devices regardless of its size. In addition to this, this plugin is compatible with all the major web browsers.
Better Article management
A knowledge base is simply a collection of multiple help articles. The number of help articles increases by the number of products and services increases. Addition and deletion of help articles in the WPHelpere can be done with simple clicks.
SEO Friendly
Every business must come up in the search results page to their related search happen. WPHelpere greatly helps your website to rank better in the search engine's result page.
Dedicated Support
Our years of expertise in the market taught us a big lesson that customer satisfaction rate is the success rate. Customers love our support and it is one of the important for WPShapere to become leading Admin Plugin in the market. We have set up a dedicated ticketing system to lodge your queries and support team trained with the best support practices and result-driven Standard operating procedures (SOP).
How to Download WPHelpere?
You can easily download our WordPress helpdesk plugin. Our WPHelpere is exclusively available on Envato, which is the largest digital marketplace in the globe.
Go to this Download Link
If you are an Envato user login to your respective account. Else, create a new account
Fill up the required billing details
WPHelpere will be available for download, once the payment is successful
If you are facing any hardships in the download process, voice out to us on our social channels or through our support channels, we will be happy to help.
WPHelpere KB plugin to be the one-point solution for all the Knowledgebase needs. We sincerely hope our WPHelpere will be the best for your Knowledge Base.