So you've finally decided to add multi-currency functionality to your WooCommerce store? That's great! There are many best plugins for WooCommerce multi currency settings to enable the sale of products and services in the different currencies from within your website.
They also all have plenty of positive reviews and offer excellent customer support should you need it. Let's check them out!
Advantages of Using Multi Currency setup in WooCommerce
eCommerce shoppers are buying more than ever, and chances are international shoppers will visit your website without much hesitation. If you plan to do business on an international level, you need to offer a multi-currency setup in WooCommerce.
WooCommerce multi currency setup allows international shoppers to shop without calculating exchange rates, fees, and taxes.
Having a multi-currency setup in WooCommerce provides you an edge over competitors. Here are some of the benefits of
WooCommerce multi currency setup:
It allows you to add pricing information about each product for every currency on your site. For example, if you want to display prices on your website in USD and Euro, all you need to do is configure your desired settings!
Each sale will be automatically calculated based on customer's preferred payment method and payment received.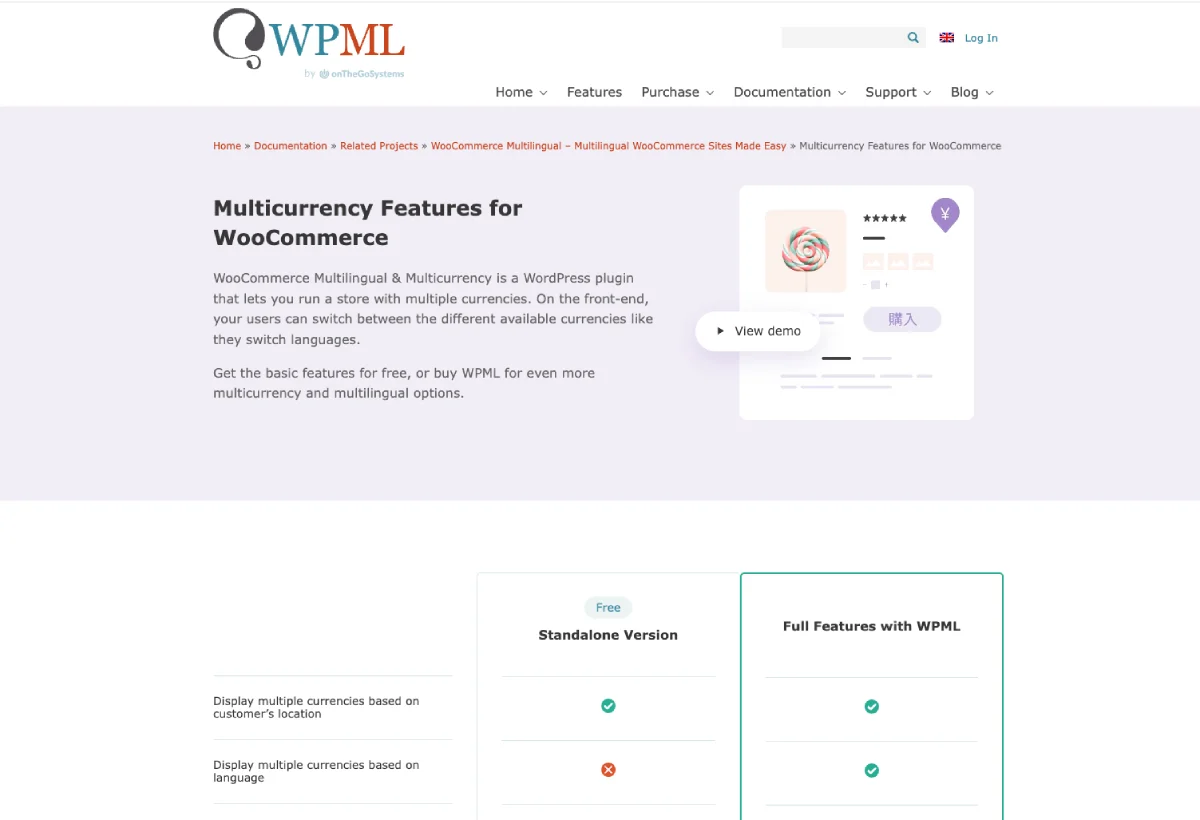 In addition to being a multilingual plugin, WPML also provides multi-currency functionality to your WooCommerce store. With this feature on WPML, your users will be able to switch between currencies from the front end in the same way they would switch languages.
WPML offers two versions of WooCommerce Multilingual; WooCommerce Multilingual with WPML and Free Standalone Version of WooCommerce Multilingual.
It's easy to set up and manage products in multiple currencies with WooCommerce Multilingual's Free standalone version, while with WooCommerce Multilingual with WPML, you can run the entire WooCommerce store in several languages and currencies.
Features of standalone version:
1. Set up multiple currencies to be displayed based on the location of the customer.
2. Custom currency formats are available.
2. Select your own exchange rate or use an automatic exchange rate service.
3. Price your products in your secondary currency and set your shipping rate accordingly.
Features of WooCommerce Multilingual with WPML:
All features of standalone features are available with WPML, plus
1. Display currencies according to the language of the site.
2. Configure different payment methods for different currencies.
3. You can translate your whole eCommerce store with WPML.
Price: Free and Paid starts $39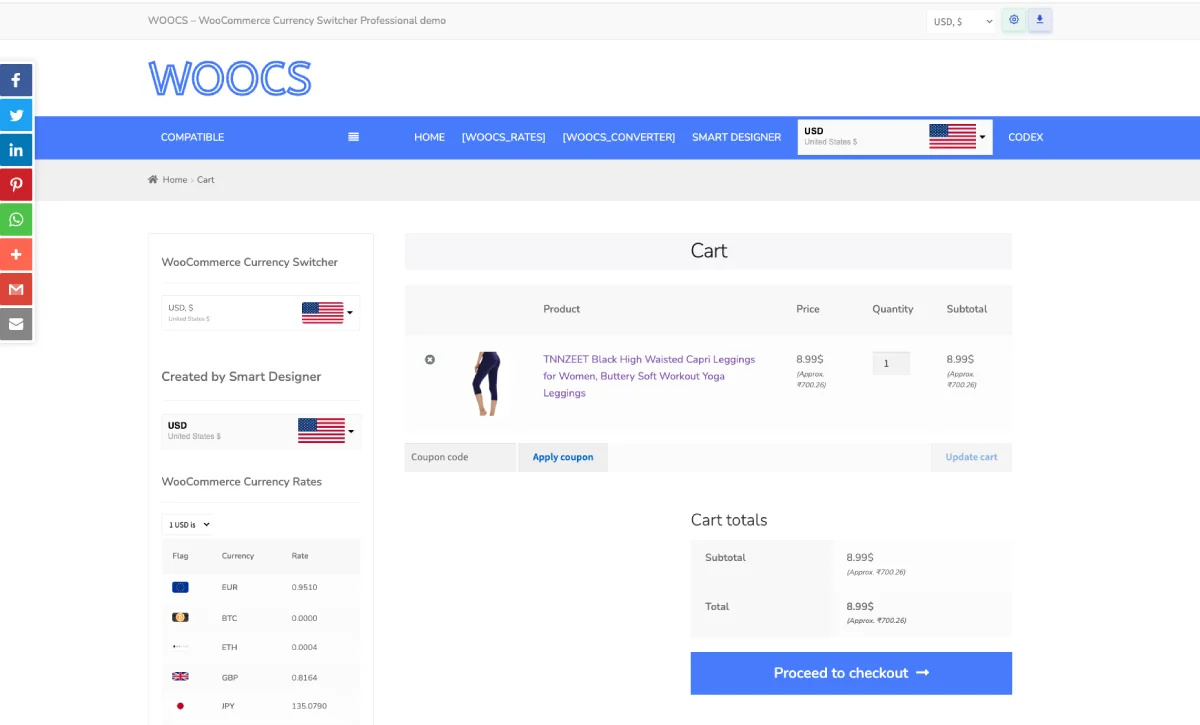 WOOCS is a WooCommerce multi currency plugin that can handle multiple currencies on your WooCommerce store and updates currency rates in real-time.
The plugin supports more than 7 types of currency aggregators for automatic currency changing, or if it's necessary, the admin can manually change the rates.
WOOCS has a feature for figuring out what currency your clients use, by taking into account both order currency and switched currency.
Features:
1. It displays an alert when there are changes to the exchange rate.
2. It automatically updates prices on the frontend according to updated exchange rates.
3. It converts prices at checkout with one click, so customers are allowed to pay in their preferred currency.
4. WOOCS allows you to customize price formats per currency such as $20USD; EUR 20€ and many other options.
5. You can show the Currency Switcher in 3 different styles: drop-down, flags and side switcher.
Price: Free and Paid $34.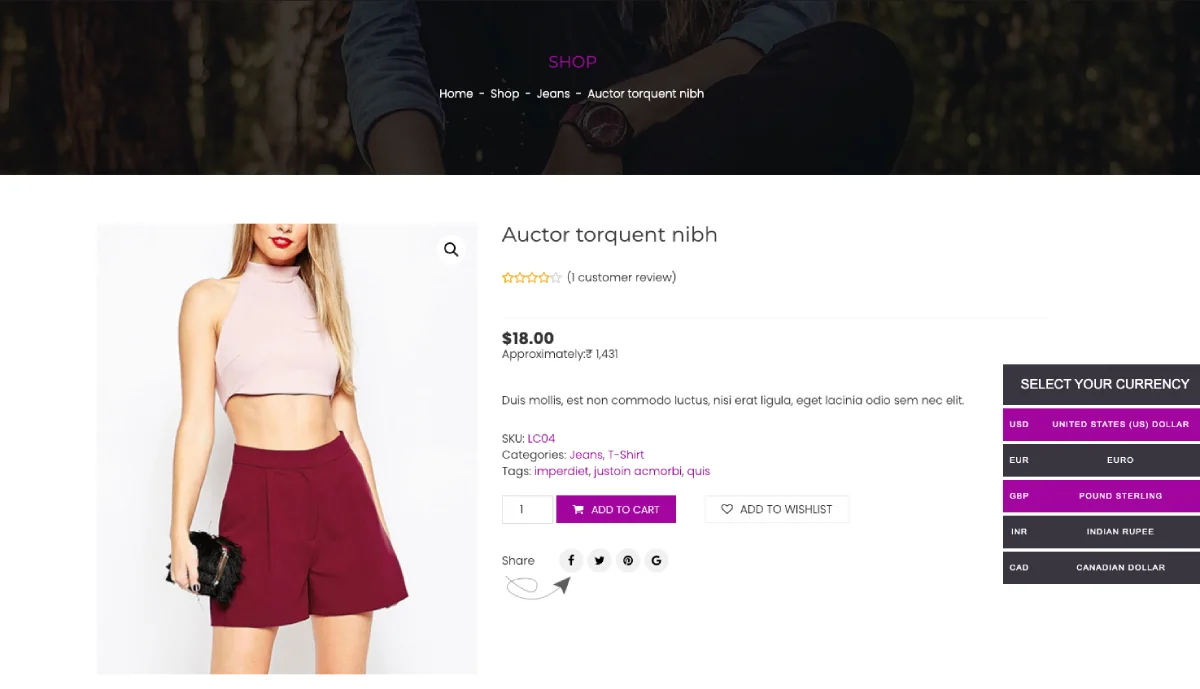 CURCY is a free and open-source WooCommerce plugin that lets you add multiple currencies to your eCommerce store. You can allow your customers to pay in various currencies, or restrict them to paying in your base currency.
It automatically detects customers' country codes from their IP addresses and displays the currency appropriate for that country. It has Geo API feature which will geolocate IP from ipinfo.io or ip-api.com
Features:
1. Manually set the exchange rate or set it to automatic.
2. Option to add Currency exchange fee.
3. Switch currency by Javascript feature to switch currency without adding the ugly query string to the product URL.
4. Multi Currency allows you to include fixed prices in different currencies to the product price.
5. Supports multilingual plugins: capable of setting which currency to use for each language.
Price: Free and Paid $32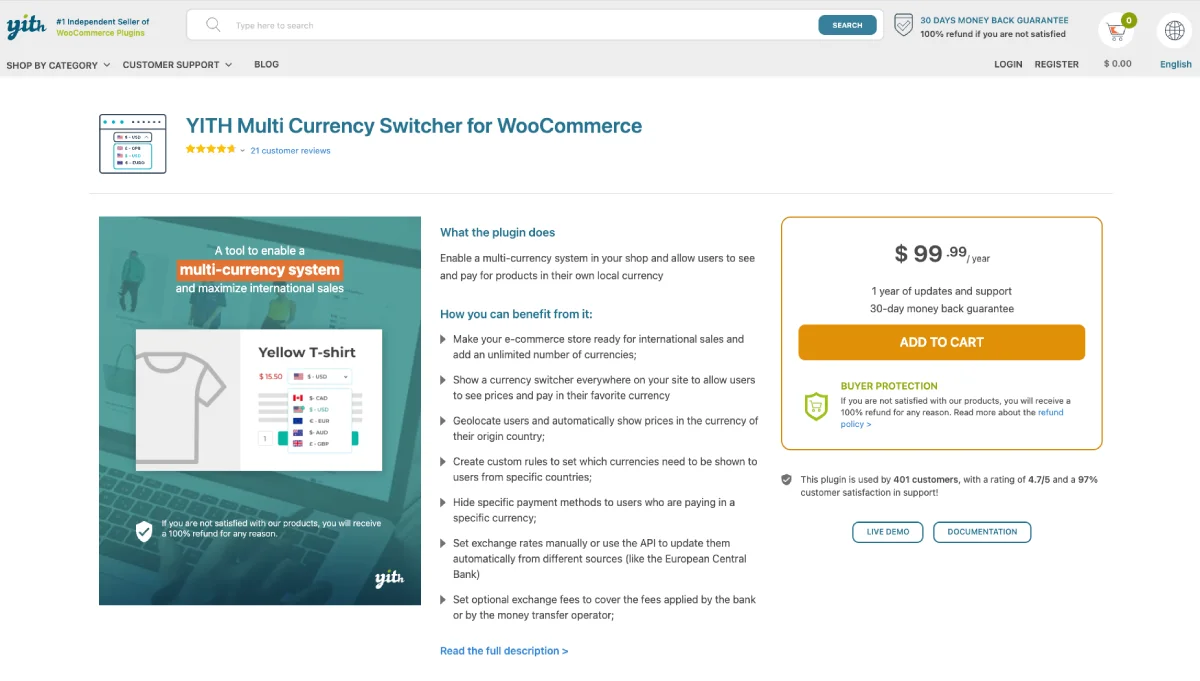 A lot of businesses want to offer their products in more than one currency. YITH Multicurrency Switcher for WooCommerce provides a solution by enabling a multi-currency system and allowing users to pay for products in their local currency. The plugin is highly customizable and configurable, with lots of different parameters for you to explore.
Show prices in the currency of the user's origin country based on geolocation. Users can switch currencies via a dropdown menu that appears when they click the currency symbol next to any product price. They will see prices converted from all your configured currencies, so they know how much it will cost them no matter what language they speak or where they live.
Features:
1. Remove some of the available payment methods for users paying in a specific currency.
2. Defining custom rules to determine which currencies have to be shown to users who live in specific countries (e.g., allow USD only for US customers).
3. You can add a list of currencies and a currency switcher to your shop using shortcodes, widgets, or blocks from the new block editor.
4. Multi currency support for WooCommerce Coupon codes.
Price: Paid $99.99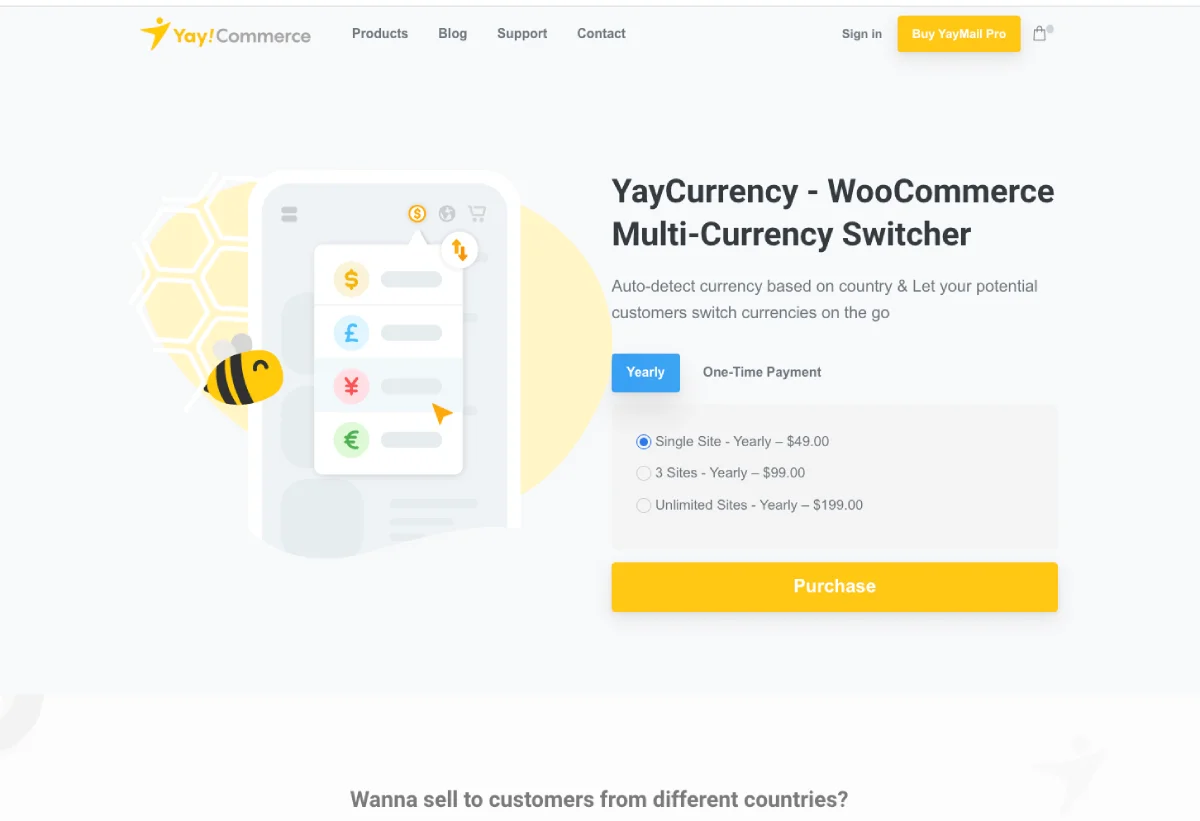 YayCurrency is a powerful WooCommerce Multi-Currency plugin with a simplified user interface. One of the most popular aspects is the ability to synchronize all currencies automatically based on geo-location data without any adjustments from the merchant. It allows switching currency during the checkout process for purchase transactions based on the supported payment methods for that country.
Features:
1. Supports all global currencies, including Bitcoin.
2. Different prices based on the country.
3. Because it comes with built-in GeoIP services, there is no configuration required.
4. Automatically update exchange rates.
5. Officially approved by WooCommerce.
Price: Free and Paid starts $49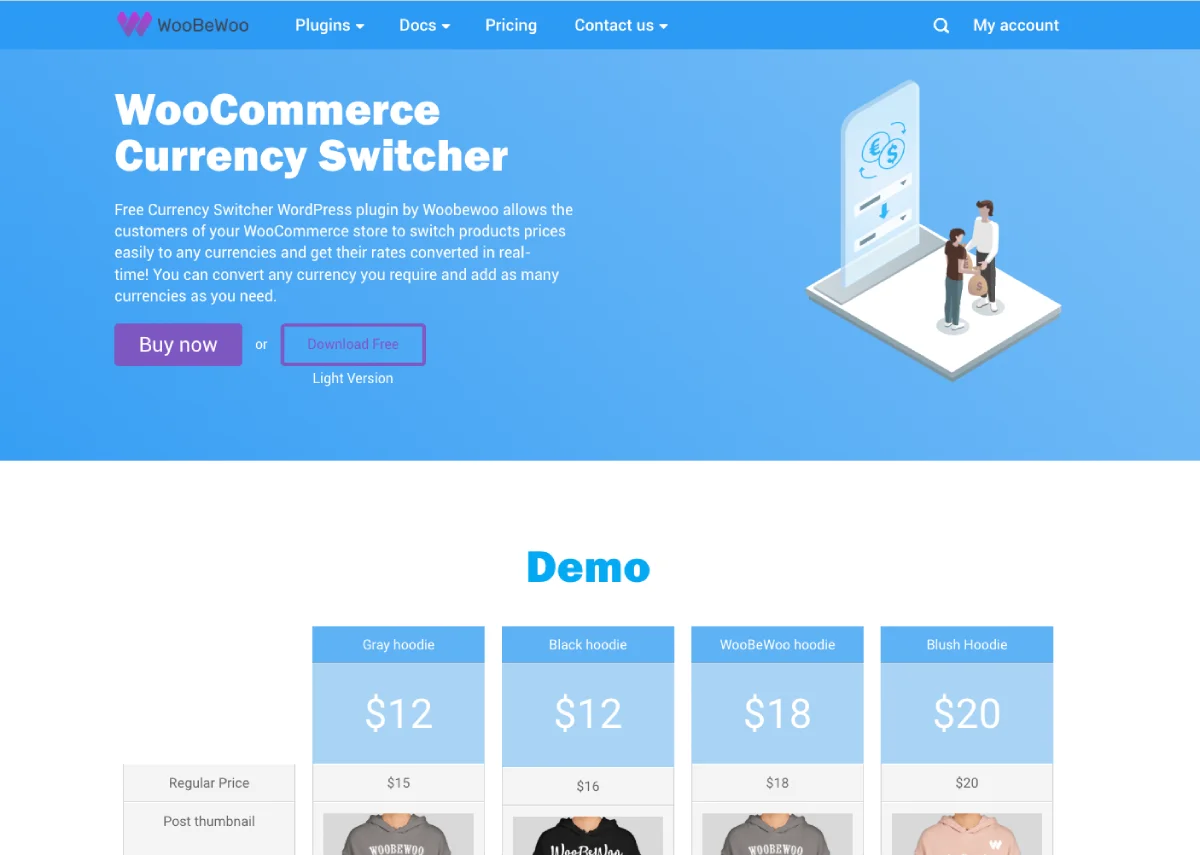 WBW WooCommerce multi currency plugin can display prices in multiple currencies, provides unlimited number of currencies setup. Also, you can change their exchange rates manually or automatically. The conversion was relatively easy and any adjustment needed was made within seconds!
With more module features, such as Currency Rates, Currency Converter, and Tooltip Modes, this WooCommerce currency switcher offers flexibility for various currencies.
Features:
1. Multiple number of currencies.
2. Automatic and Manual exchange rate conversion.
3. Allows customers to checkout in preferred currency.
4. Custom currency formats.
5. Custom designed country flags or use your own icons.
Price: Free and Paid starts $49
You May also Read
15+ Best Free WordPress Themes for eCommerce to Boost Your Sales
The Top 8 Plugins for Multilingual WordPress Sites
5+ Best WordPress Bookstore Themes for Selling Books Online