We can never forget the user-friendliness of WordPress classic editor. But, Gutenberg becomes the default editor from WordPress version 5.0. Change is always a necessary component for every organization to reposition themselves to the transformation that is happening around them. If we look back, it is evident that WordPress had undergone multiple changes. Introduction of the new system is quite a tedious process. It should increase the overall value to the product without affecting the user experience.
Gutenberg block editor is one such major transformation that WordPress has undergone. Millions of people across the world use WordPress. It is not possible to force everyone to adapt to this new editor suddenly. It should happen gradually. However, maintaining two-editor systems that serves the same purpose will create more confusion and decreases the usability for WordPress users.
At the same time, a considerable user group still prefers the WordPress classic editor. For them, WordPress introduced a classic editor plugin that is available free on the official WordPress website. This plugin will be helpful in retrieving the WordPress classic editor back into our WordPress website. With this plugin, users can easily switch between Gutenberg to the classic editor with a single click. We recommend not to disable the Gutenberg editor completely as it has advanced features compared to the classic editor.
How to activate Classic editor Plugin
Follow these steps carefully to download and activate the classic editor plugin.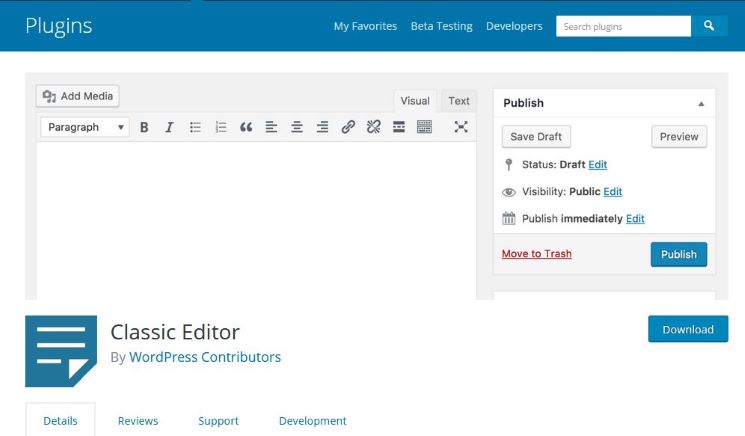 Download the Classic Editor plugin by clicking here or you can directly install classic editor to your website. WordPress Dashboard -> Plugins -> Add new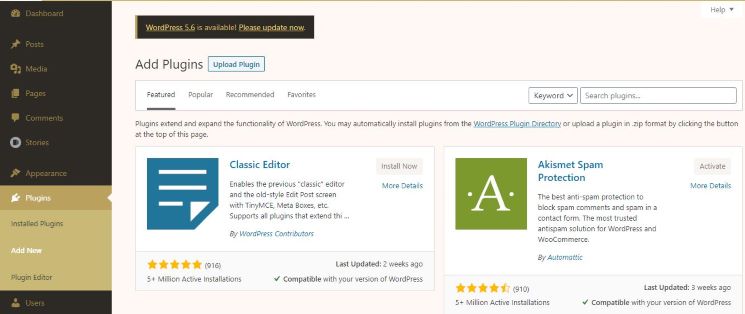 After successful Installation,
Go to WordPress Admin Dashboard -> Settings -> Writing
In that page, you will find an "Allow users to switch editors" option.
Select "yes" button to that option

Now Go to Plugins -> Classic Editor -> Click "Activate" Button
Once you activate the WordPress classic editor plugin successfully, you will find the two editor options in the "All Posts" page.

From here, you can edit the article in any of the editors. It is very simple to change between editors even when you are writing the article.
How to switch to the classic editor from Gutenberg Block editor
Before switching to the classic editor, save the draft to avoid the loss of the blog article.
Go to -> More Tools & Options
Select "Switch to classic editor" in the plugins section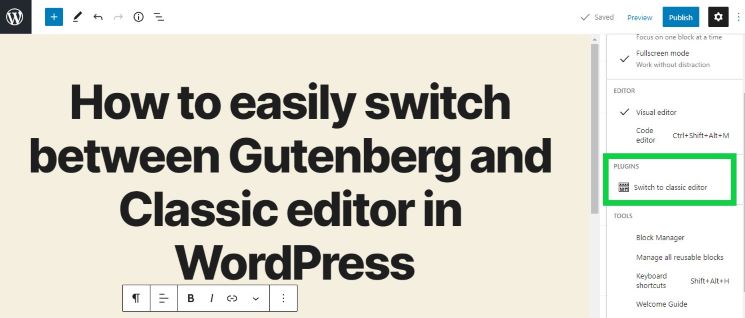 Now, the post is fitted into the WordPress classic editor.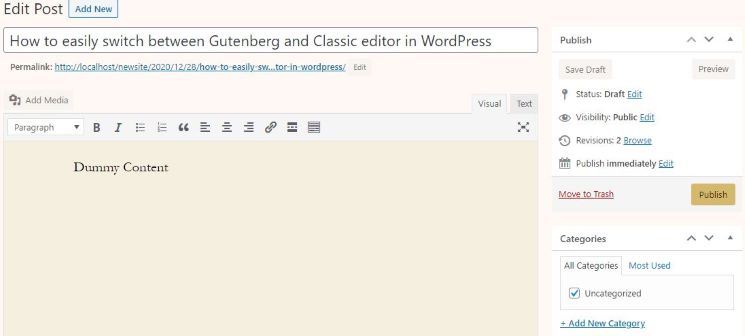 We could find the heading of the blog is automatically in the H1 tag, and the remaining content is in the editor. You can start using the classic editor without any hassle.
Conclusion
WordPress Classic editor is easy to use. At the same time, Gutenberg block editor was introduced to meet the new age reader expectations. It has so many amazing features. We recommend you to learn to use Gutenberg block editor. Get into this wave of change for a better tomorrow. Stay tuned for more WordPress tricks and hacks.