In many large web-related projects, there is the need of an admin templates or dashboard. These are very time consuming to make and often neglected because the website visitors will not see them anyway.  However, considering this is one of the pages the website owners will look at on a daily basis; it is not such a bad idea to pay more attention to this admin page as well.
To save you a lot of time and effort, admin templates are a great way to offer a solid user experience without starting from scratch. In this list, we will cover some premium and free admin templates for your next project.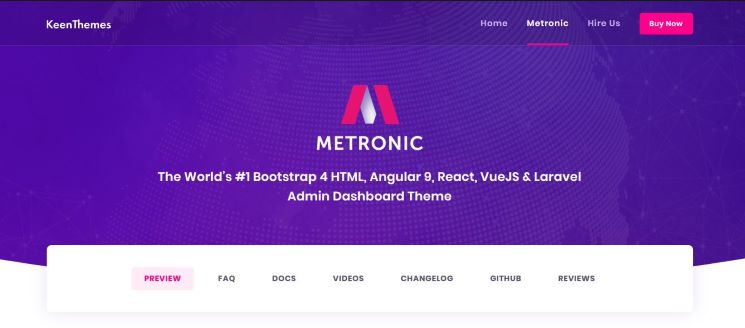 Metronic is the most popular admin theme on Themeforest. In some way, you could say it has become the go-to admin dashboard template for developers, designers, and teams.
It is fully responsive, made with HTML5, CSS & jQuery on top of Twitter Bootstrap 3. The design language is based on Google's Material Design. In other words, you get a state of the art product.
The amount of features is overwhelming, especially when you keep the low price in mind.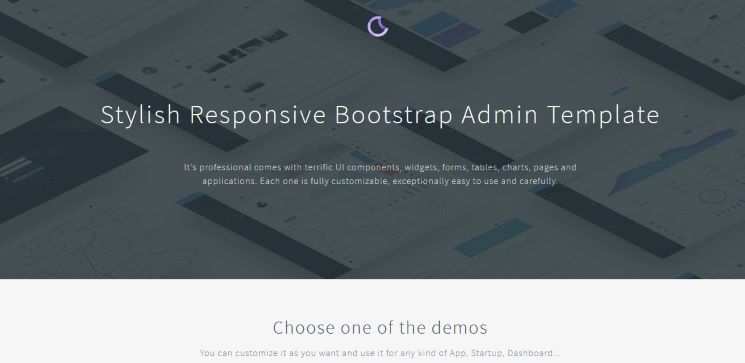 Remark is a Bootstrap admin template. The design is fresh and spacious. A nice addition they put into this, is that every layout comes in material design and just a version with their own unique design style.
The UI components are mostly focused on data visualization, which makes this template an excellent choice for analytics dashboards.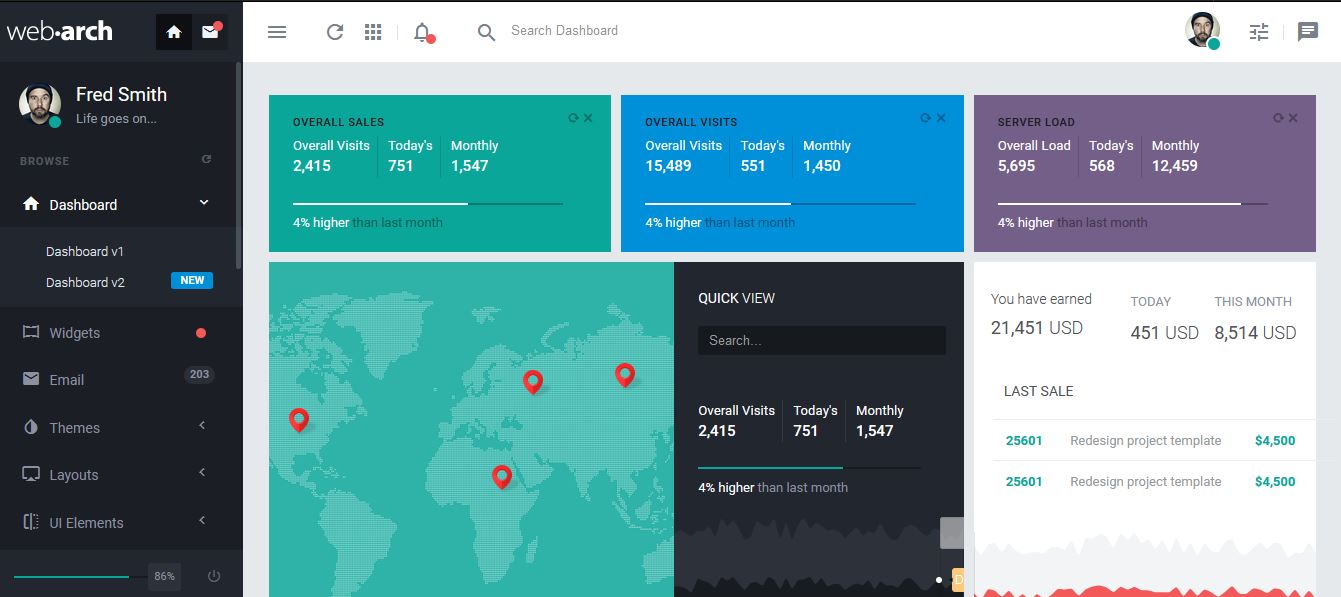 For an admin template with a mix of Windows and material design to it, Webarch does the job.
It comes with tons of plugins and widgets, mostly based on jQuery. All Photoshop files are included to make quick visual adjustments before you touch any code.
One of the more unique features is the live chat sidebar to keep the team in touch with each other.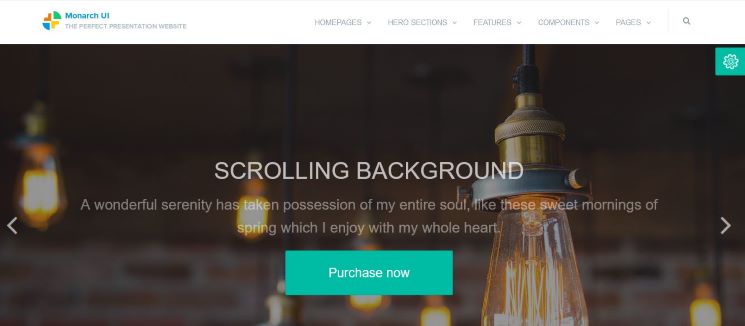 Monarch is one of the more compact and subtle looking admin templates. The accent colours and numbers are the main visual focus, making this template visually peaceful and intuitive to use.
It is built using HTML5, CSS3, jQuery and AngularJS and an excellent choice if you need to offer a lot of content and features without making it look intimidating.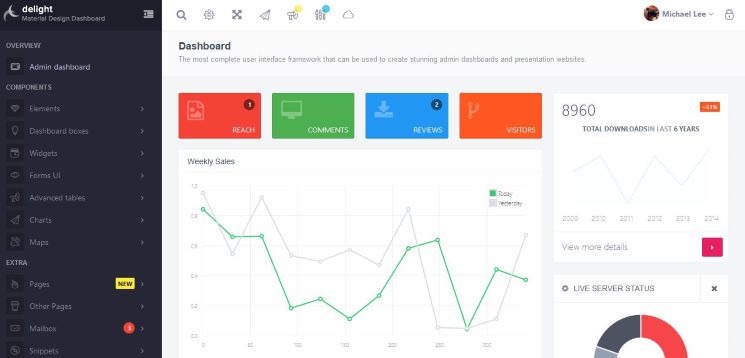 Designing interfaces on a strict grid can drastically improve your UI. The Delight template is a great example of this. The kind of UI components and the use of colours is quite typical and not very different from many other templates, but the biggest difference is the layout.
Everything is neatly organized, improving the user experience. Therefore, this admin template will work really well for projects where less experienced users are involved.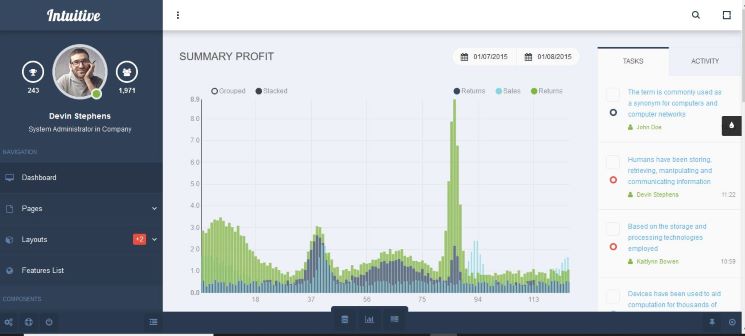 The Intuitive admin template decides to use compact UI elements instead of bold and large ones we see more often these days. Bold can look nice, but sometimes you just need something that doesn't scream as much and just shows the content in a subtle manner without losing the visual hierarchy.
It comes with 12 ready to use themes out of the box and is built with HTML, CSS and JS code.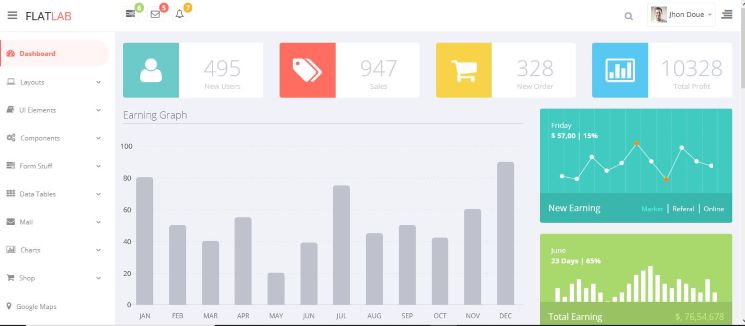 Flatlab offers everything you would expect from a flat design template but in a compact and easy to use way. It is a hybrid between UI design as we knew it years ago and the modern-looking flat interfaces that have this fresh feel to them.
Flatlab is a lightweight template built with HTML5 and CSS3 on top of Bootstrap 3.3.7.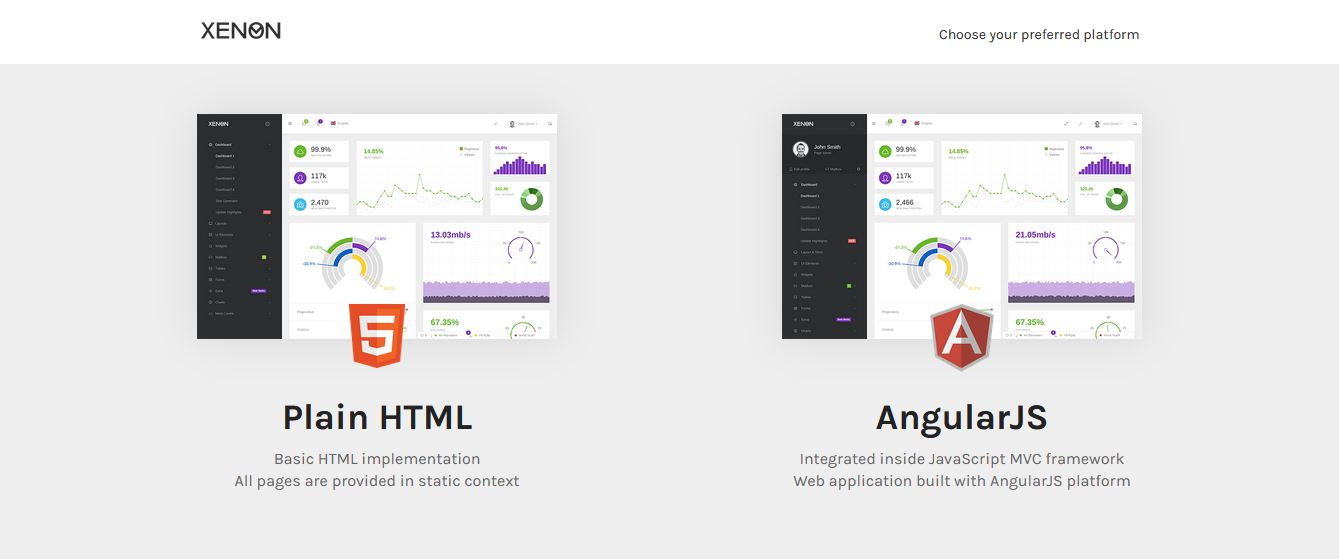 Xenon does an excellent job of presenting data in a stylish and unique way. With the use of large icons and colours, different data insights are easy to distinguish from each other. One feature you might not find in most other admin templates is its Mailbox section.
There are many ready to use types of data visualization which are compact but still very clear and specific.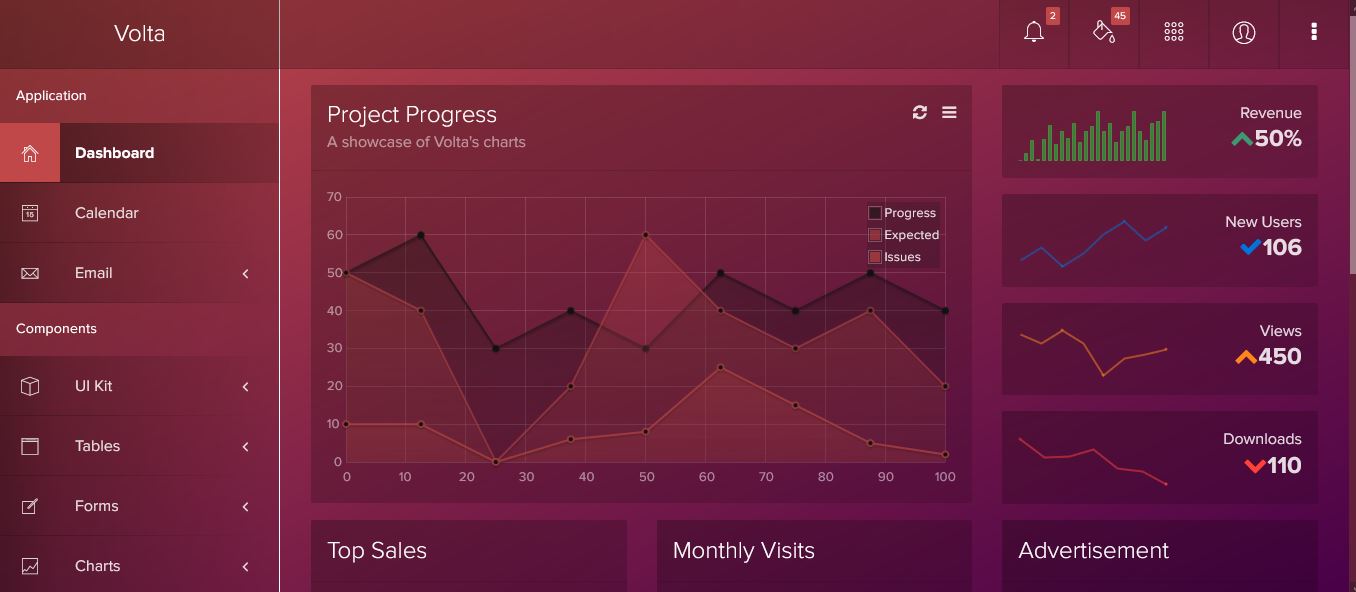 Volta definitely is the most unique admin template on our list. You can choose between many beautiful gradient themes, which deliver very strong moods to the design.
It is packed with many UI elements that all match its unique design. This is an interesting choice if you want to differentiate your admin dashboard from all the other ones.
With Frogetor it is easy to show a lot of data in a dense and compact way. The UI is sophisticated and very suitable for corporate projects or anything that needs more of a neutral look to it. A lot of time and effort seems to be spent on the coding in order to make it easy to customize for you.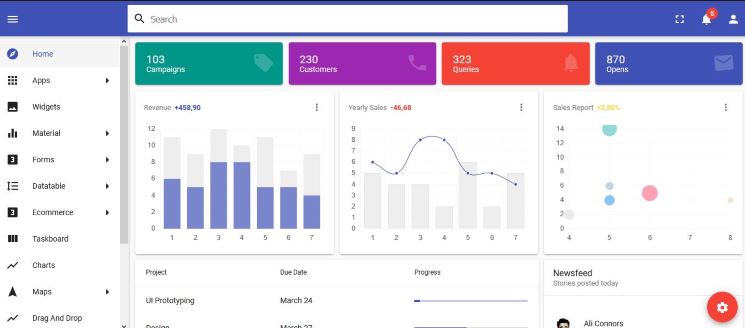 For a strict material design admin template, Primer is a good option. It is designed keeping the material design principles in mind, including the small transitional animations. There also are features for eCommerce and other more financially oriented projects.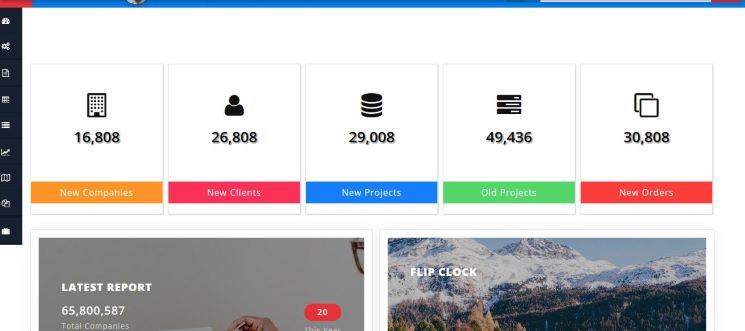 Esteem is a colourful free admin template with large UI elements. The most useful parts are all included and many of them are animated as well. This template works well in situations where you don't want the backend to be too serious or stiff.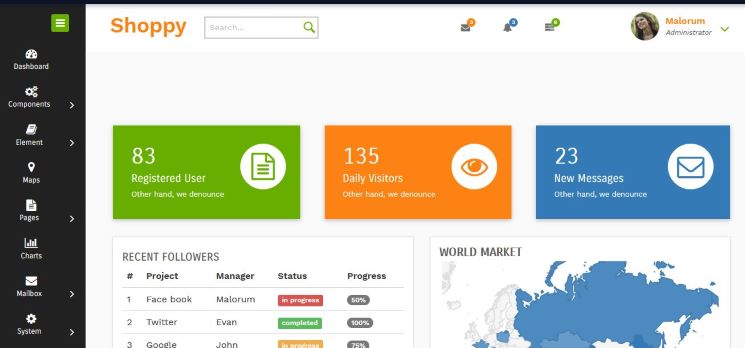 As the name "Shoppy" can tell, it focusses on eCommerce. So next to some usual UI elements it also comes with more specific ones such as product listings and pricing panels. It is a free template, which you can notice because of the slightly fewer features. But it still is a good way to get started without an early investment.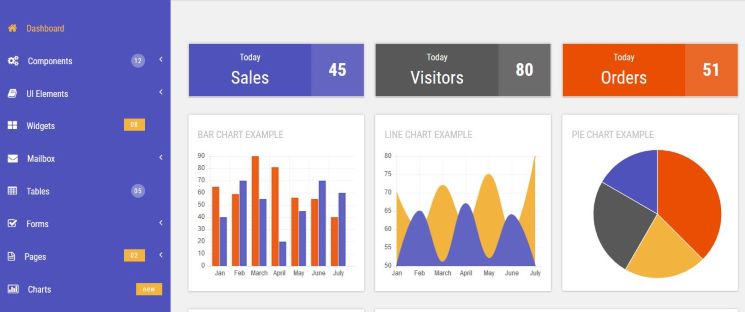 Novus is another free admin template. It is colourful and bright. There are many different components that could easily be modified to your needs. A nice bonus to this is that many elements are also animated already.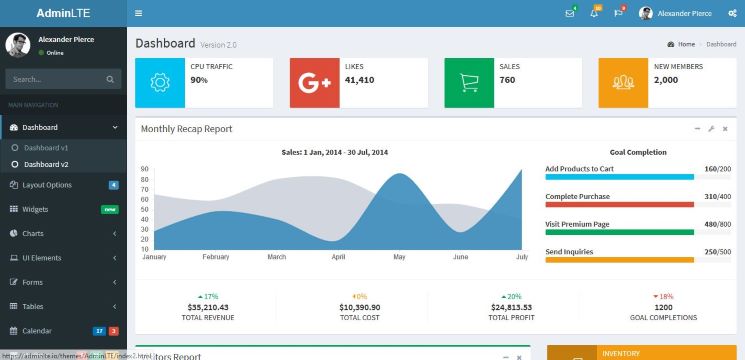 Even when this template looks very busy at first sight, it has nicely designed elements that speak for the data it is trying to communicate to you. It is possible to offer a lot of data in a small space. It also comes with some nice features (especially as it is free) such as a mailbox, labels and a detailed calendar.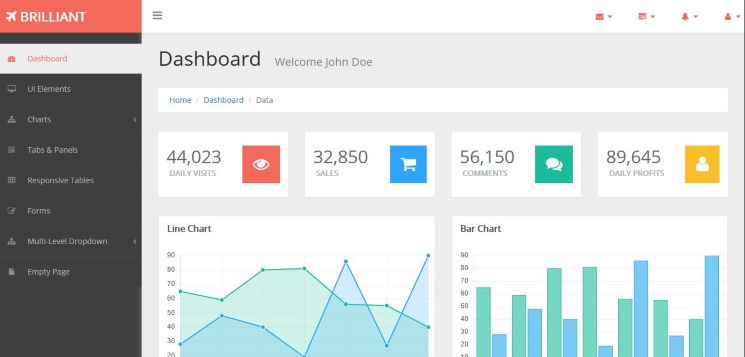 Brilliant is one of the better looking free options out there. It covers most of the basic UI elements with the looks of a premium template. This makes it a good choice if you don't need a lot of features, but still want it to look premium.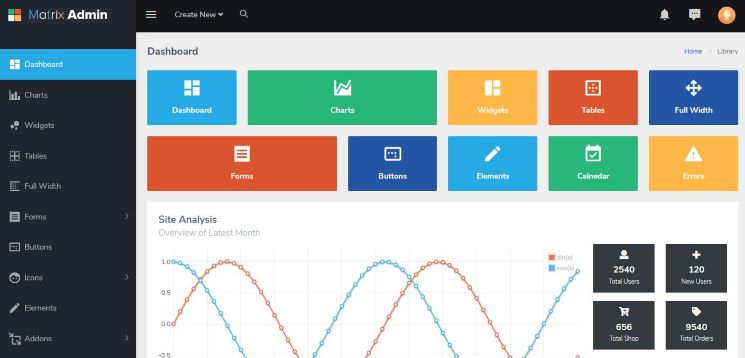 Matrix Admin is designed in a way that slightly matches the WordPress dashboard its design. A mix between traditional UI and flat design. Even though there are many different kinds of features, it seems to work best for anything hardware-related. Projects such as Webhosting would work well with this free admin template.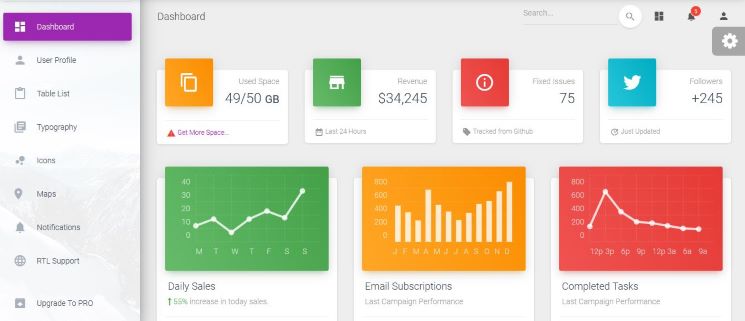 With a very well-designed material design style, Creative-Tim is worth taking a look at. Especially knowing it is free. It could be seen as a kit of all Google material design elements you could need for your admin page. Everything is very clean and spacious, making it very user-friendly.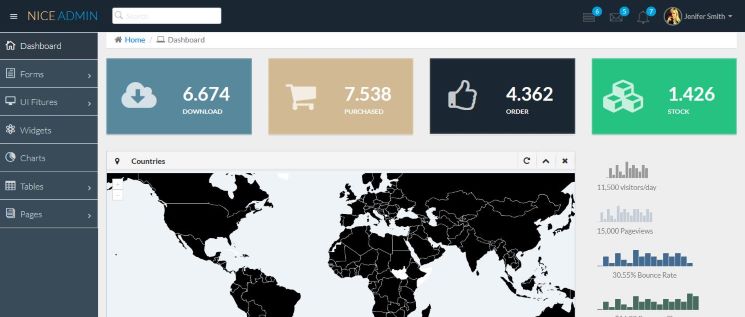 This free template covers the basic needs of an admin template. The design is very neutral and leans more to a traditional UI design style. It is probably more of a solid base to work on top of than an out of the box / ready to use the template.

Ultra Modern is a clean free template. It has a fresh feel to it and would work well in many business projects. As most templates, it is built with Bootstrap, HTML5, CSS3 and jQuery.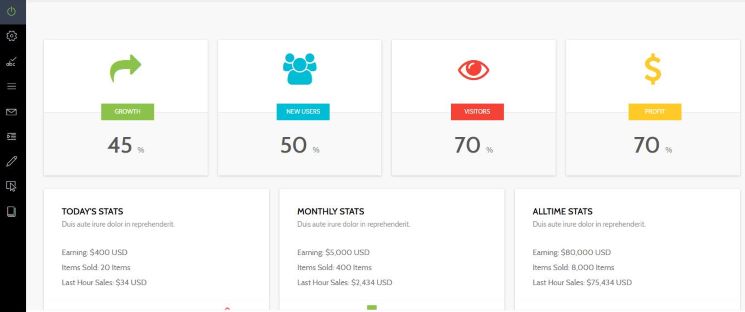 Easy Admin Panel has a surprisingly "breathing" and elegant design for a free admin template. The styling is kept to a minimum, without making it boring or unclear. It also comes with the Photoshop source files for you to to try things out before coding.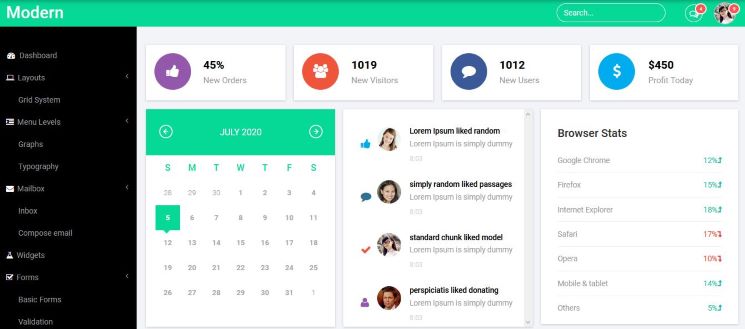 Modern is a free flat design admin template. It has all the basic elements to it and is nicely designed and coded. The visual hierarchy is on point and a great start for your own custom admin template.
Free Admin Templates that perfectly Suit your Needs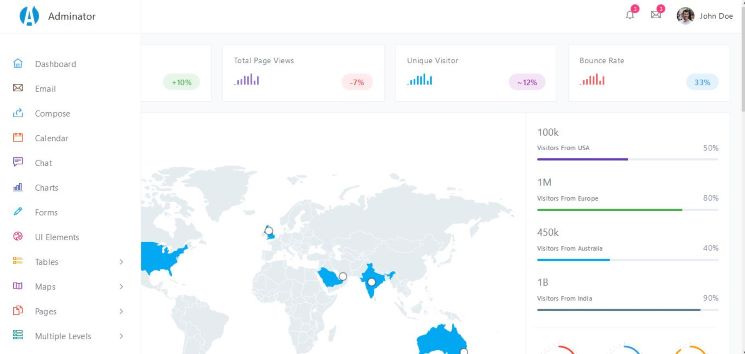 Adminator is a responsive admin template made of Bootstrap 4, CSS, Sass, and Node.Js. It has multiple utilities, Custom pages, many widgets that come to handy and collection of applications.
This template has the option to display the Global Map in the dashboard to analyze the audience in a particular region and Google Map API supports this feature.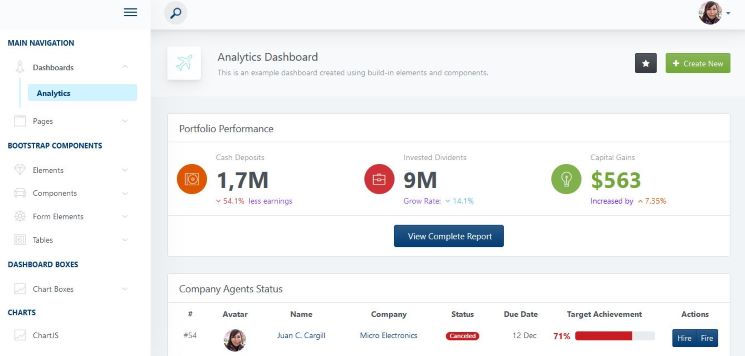 Architect UI Angular 7 is a responsive admin template with a simple design layout. The best part about this template is all the analytics data are displayed in the dashboard itself.
This feature highly helps the website owners to make quick decisions. It is fully responsive with Bootstrap elements and has multiple colour schemes for layout components.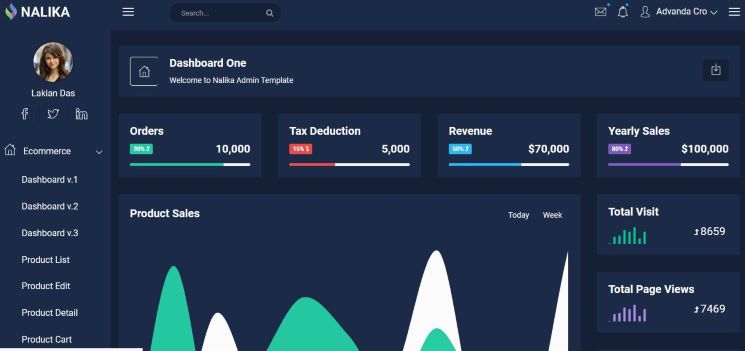 Nalika is a responsive bootstrap admin template created using the combination of technologies such as HTML, JavaScript, and CSS. This admin template follows a dark mode design concept, which is being preferred by many developers today. This admin template has multiple dashboard options and simplified menu options that do the job.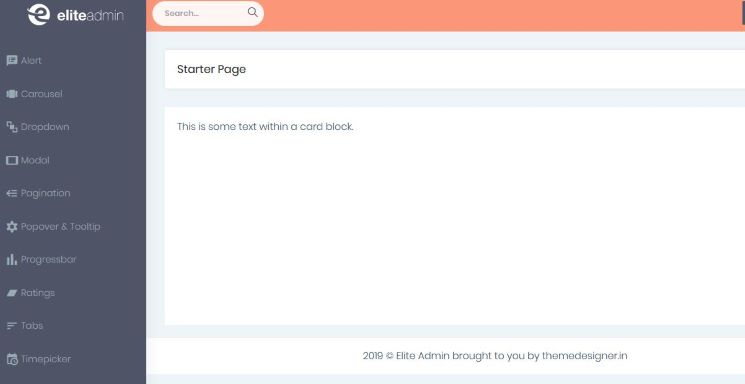 Elite admin is a clean and responsive admin template Made with Bootstrap, Angular 9, and saSS Base CSS. The free version of elite admin has 10+ UI components, multiple responsive pages and it is easy to customize. This template has minimal features and is more suitable to simple applications.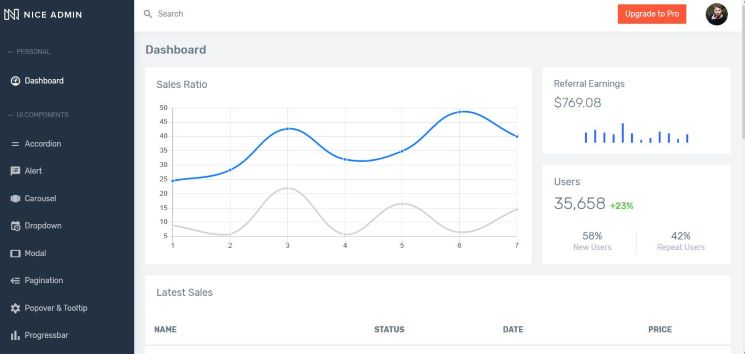 Nice admin lite is a basic responsive admin template with 7+ pages template, 10+ UI Components and Profile page. This template also has Font Awesome Icons.
These features help you to customize this template easily. This template is created using Bootstrap, saSS base CSS and Angular 9.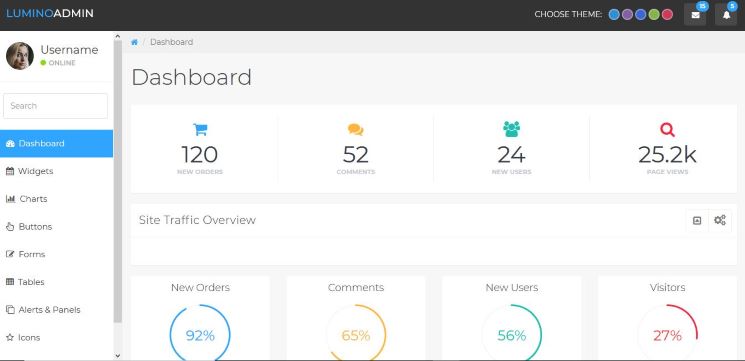 Lumino is a fully responsive simple admin template built using Bootstrap, saSS base CSS, HTML and CSS. Lumino, fit to its name comes with a fresh colour scheme, charts, forms, panels, UI elements, alerts, menus, tooltips, and many useful widgets.
This admin template also has built-in user functions, menus and notification features that could help us to customize this lumino template to your needs.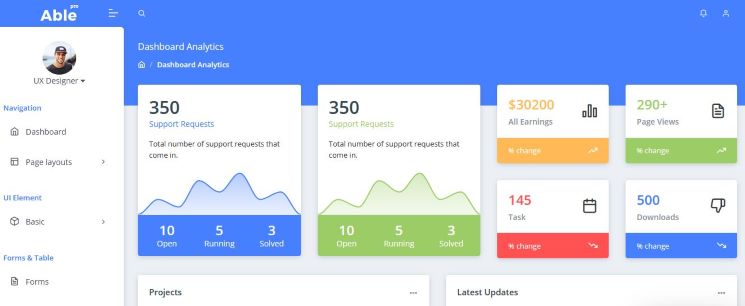 Able pro is complete admin template with amazing options such as 16+ pages coves the purpose, a default layout, retina friendly design layout, different chart options, 15+ widgets, some third party plugins for the advanced backend usage purposes.
Able pro admin template has the faster loading speed that could also add value. This admin template comes with the new-live customizer, which is a page customizer for easy customization.
Conclusion
These admin templates are an excellent way for you to get started making a dashboard, control panel, or anything in the backend. The website administrators deserve just as much beauty and usability as regular visitors. So use a template to save some time without compromising in quality.